It shouldn't be a surprise that the Epsten Group now occupies the first certified Living Building Challenge office in metro Atlanta.
Since the 1990s, the local architecture and consulting firm has been one of the Southeast's sustainability trailblazers. It was among the region's first design firms to specialize in high-performance, green buildings.
Then, in 2007, the company renovated a two-story building in Atlanta's Old Fourth Ward. That project earned the first LEED Platinum rating in Georgia. And in 2015, a separate Epsten building nearby earned its second LEED Platinum for Existing Buildings, making it — apparently — the first  "double LEED Platinum" building anywhere.
So, when three employees bought Epsten from founder Dagmar Epsten in 2016, they decided to make their own mark on the leading edge of green building.
"That's our reputation," says Lauren Wallace, director of certifications and consulting and a principal at the firm since the 2016 buyout.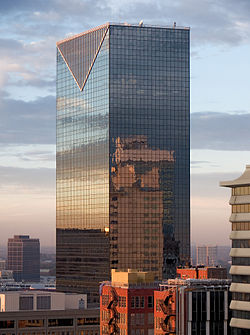 Wallace and her colleagues decided nearly two years ago to move from the standalone building, which was still owned by Dagmar Epsten, into 101 Marietta Street, a conventional, glass-and-steel downtown skyscraper. They'd renovate their new twenty-sixth floor suite with an eye toward earning five separate green-building standards.
"Maybe, we're doing overkill," Wallace says. "But we're using it for research for ourselves. It's helping us give our clients a better idea of the certification that will serve their needs."
Those standards include Petal Certification under the Living Building Challenge. The Kendeda Building for Innovative Sustainable Design, which this blog chronicles, is shooting for full Living Building Challenge certification, while Mohawk Flooring's Light Lab in Dalton, became the first certified Petal project in Georgia in 2016. Epsten served as commissioning agent on both those projects, and a consultant on the Light Lab.
But, in March, the company's retrofit of its new office became the first metro Atlanta project to earn LBC Petal Certification. (There's another "first" involved — sort of: Though it isn't officially the first Petal project certified under the latest iteration of the LBC, the Epsten team worked with the International Living Future Institute to become the first team to meet all the new requirements for the tough Materials Petal, That, Wallace stresses, gave Epsten a jump on experience with LBC 4.0.)
"One of our ideas was to prove that you don't have to have a hippie, crunchy, hodgepodge space to have a healthy, Red-List free, low-carbon, beautiful working environment," Wallace said in a lengthy interview describing the project. Here are a few of the highlights.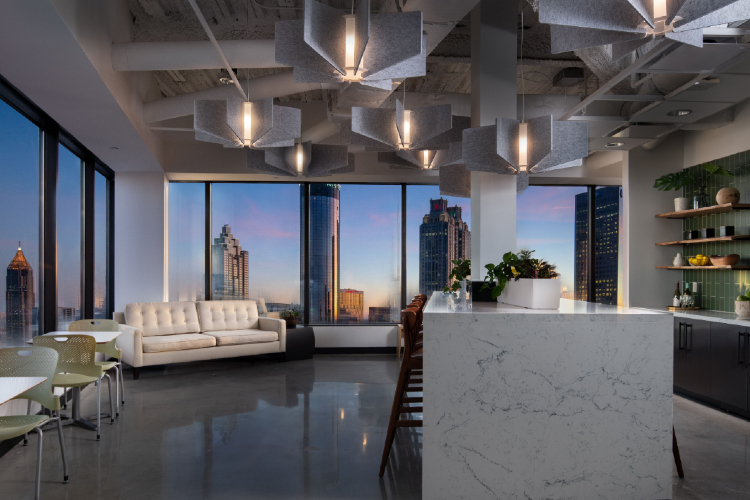 Perched above the city
Skyline views inspired the design team to think of Epsten's new offices as a tree house. But the principals also saw the move downtown as an opportunity to join the community below. This would give employees a chance to use public transportation and to walk to downtown amenities.
One disadvantage to occupying a conventional high-rise: No operable windows. The WELL and Fitwel healthy building standards — both of which the project pursued — encourage operable windows, and full LBC certification requires them. But as a Petal project, which must fully meet only three of the LBC's seven Petals, Epsten didn't have to meet the LBC operable-window standard.
To gain certification, each Petal project must include at least one of three particularly broad and challenging Petals: Energy, Materials or Water. Epsten opted for the Materials Petal, but Wallace says its famously time-consuming requirements turned out less difficult than expected.
Since Epsten served as a consultant on the Mohawk Light Lab, tools to help project teams work their way through the Materials Petals have matured. And more products are on the market that meet the LBC's requirements for transparency and non-toxic materials.
The Epsten team also learned that salvage and reuse of materials was a surefire way to get closer to goals for zero waste and reductions in embodied carbon. Wallace even milled a red oak that fell near her house to provide shelving in the new office.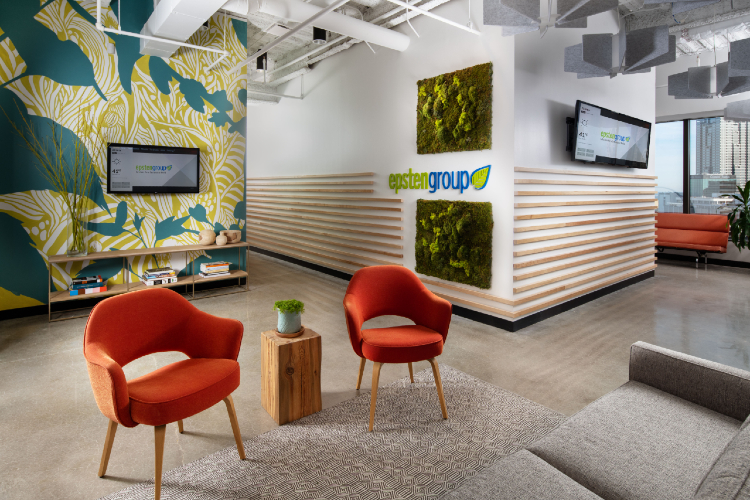 Entrance with a statement
In addition to the Materials Petal, the project opted to pursue the Equity and  Beauty Petals. Evidence of all three can be found in the reception area for the 7,200-square-foot space.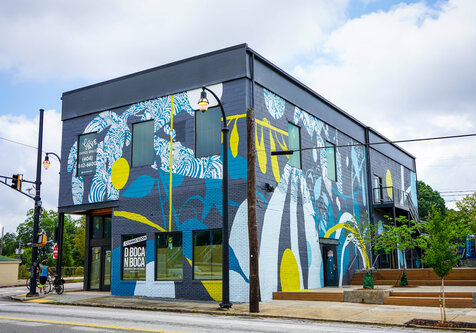 Forest Stewardship Council-certified maple bands visually bind the office together, evoking the treehouse motif. The two green MossWallArt hangings are Red-List free Declare products; they add one of several biophilic elements to the office. Along with many other furniture pieces, the orange mid-century modern chairs were repurposed from Epsten's old office.
Epsten also brought world-famous Sardinian muralist Tellas to Atlanta for his first work in the U.S. Tellas' style is rooted in the natural areas on his native island, but the mural that stretches across much of the Epsten office is informed by fauna the painter discovered in Georgia, Wallace says.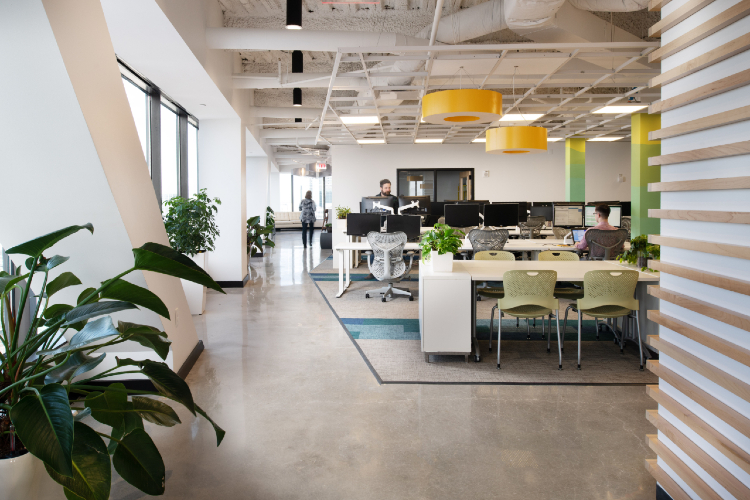 Circulation routes
The new office is smaller than the old building by 2,000 square feet. But stairwells, walls and a less efficient layout made the old space feel more cramped. In Epsten's new office, wide pathways — mostly along the floor-to-ceiling windows on the perimeter of the office — contribute to the open feel.
The floor itself is an example of the sometimes symbiotic relationship between simplicity and sustainability. Early plans called for sustainably harvested wood flooring from Mafi, an Austrian manufacturer that produces zero-waste, Red List-free products. But Mafi's products aren't cheap, and neither is shipping. The design team instead opted to polish the existing concrete floors with an environmentally friendly finish from Prosoco.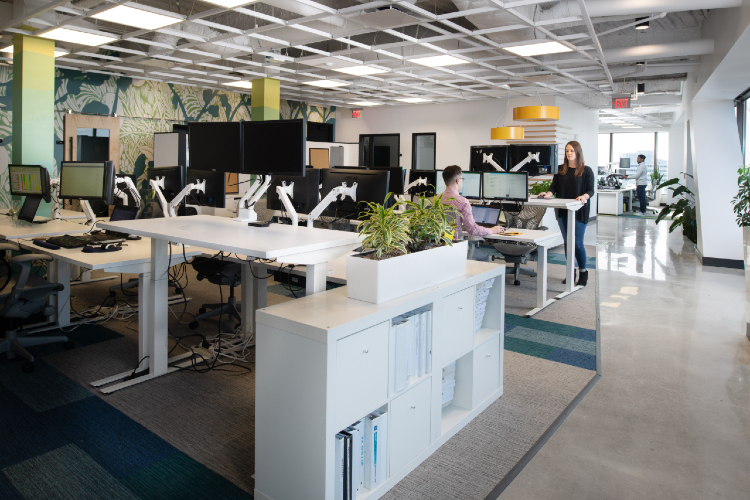 Flexible work spaces
There are many advantages to designing your own office.
"We've watched from a design perspective the pendulum swing when it comes to open office spaces. From the Dilbert-type cubicle with the high separators to the open office where everyone can see each other," Wallace says. "We've included a bunch of different types of spaces. We settled on something in between for most of us."
Wallace credits the "methodical" approach of Pete Choquette, a principal and Epsten's director of design, for the office's highly customized yet flexible work spaces. The company extensively surveyed its employees, even looking at the mix of personalities to settle on a variety of work stations that would best serve its staff.
Each of three departments has its own "neighborhood," separated by the few offices and meeting rooms. For health and wellness, some are standing workstations.
The office also includes three small rooms for the kinds of activities that didn't have a designated spot in the old building: a nursing room, a wellness room and a "huddle room."
While Wallace says Petal Certification was the most difficult standard to plan for, WELL has turned out to be the most difficult certification for the team to attain. That's partly because the process identified a mechanical background sound that the standard deemed loud enough to be uncomfortable.
Perhaps more significantly; Despite meeting LBC requirements for zero- to low VOC materials, the team found that levels for volatile organic compounds in the air were higher than allowable under WELL.
"Because of the way the old mechanical system at 101 Marietta works, make-up air travels through the elevator shafts. That means we share the same air as our 26th floor suite mates, but also all other 34 floors," Wallace wrote in an email.
So when less environmentally concerned tenants painted their offices 10 floors below, or used electrostatic disinfectants, Epsten's VOC counts spiked.
The solution? "We have partnered with an amazing company, Pureti, who has a photocatalytic product that was applied to our exterior glazing and we are now well within the VOC limits for both rating systems," Wallace writes.
Now, she says, he project is tracking to earn WELL Platinum. And in the process, Epsten decided to seek WELL's new Health-Safety Rating, which was developed specifically to address viral threats.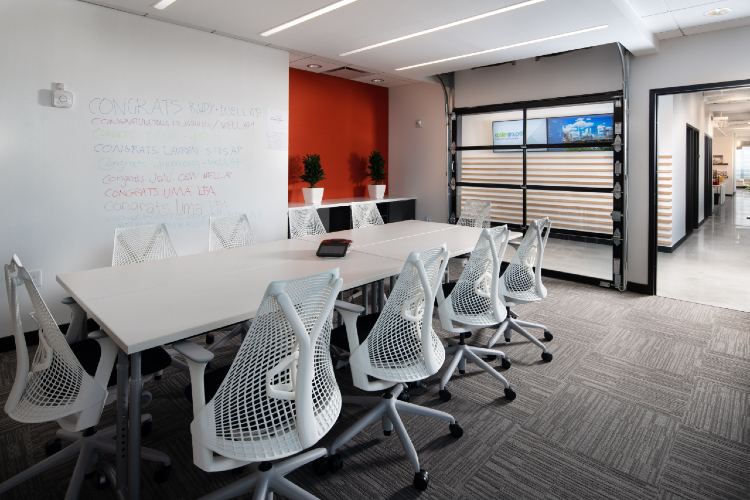 Adjusting to COVID-19
Even before the pandemic, Epsten had adopted the idea of "hoteling." Also known as a "free-address" system, hoteling is closely tied to telework. It gives employees an option to set up shop at different work stations, depending on their tasks that day, or to stay home. As part of that feature, the office includes small lockers.
Wallace says some reconfiguration has taken place since the rise of COVID to ensure that workers can remain socially distant. But the certification standards helped Epsten prepare the new office for the unusual circumstances..
Resilience requirements under several of the platforms already had encouraged the team to plan for teleworking
Other design features turned out to be helpful. When the office reopened in July, the two main circulation paths were designated as one-way routes, making it easier for employees to socially distance.
Garage-style doors form one wall in the main conference room. While that room isn't being used right now, the doors should come in handy when it is back in use because the virus turned cramped, closed rooms into a very bad idea.
"If anything," Wallace says, "going for five certifications helped us be readier."