Patrick Dougherty isn't the first sculptor to observe that his work has something in common with architecture. In his case, though, the adage is particularly apt.
Dougherty's latest installation sits on a rise overlooking the Kendeda Building for Innovative Sustainable Design at Georgia Tech. From that vantage, it's difficult to avoid parallels between the building and the sculpture.
Both rely on wood for structure. The Kendeda Building is framed on mass timber. "A Chip off the Old Block" is composed of sticks twisted and intertwined into huts that look as if they were woven from a fairy tale.
At a more basic level, both self-consciously disrupt the conventions that guard the boundaries between nature and human-built structures.
"It's architecture masquerading as shrubbery," the North Carolina artist says of his work.
A former Air Force officer who was headed for a career as a hospital administrator, Dougherty dove into art in his mid-30s. He's been building his "stick works" for the 30 years since. But in a sense, the entire endeavor has been a return to childhood.
"We've all played with sticks as children, and children have a kind of atavistic memory of our prehistory in which sticks were one of our major building materials to build houses," Dougherty said in a separate interview with MODA's Veronica Klucik. "So children go through a building phase and they know everything about sticks. It's utility. It's an imaginative object. So it doesn't take that much to awaken those feelings in adults."
The installations typically take three weeks to complete, as did the one at Georgia Tech. And by drawing in the help of volunteers and the curiosity of strangers, they become very public endeavors.
Dougherty's first step is to gather the wood. In this case, that involved spending three days on an overgrown field in the Serenbe community in south Fulton County, where he, his son Sam (who serves as construction assistant) and volunteers trimmed around 75 sweetgum saplings and other small trees. They bundled the yield and hauled three truckloads up to Georgia Tech.
Next, Dougherty maps out the general layout of the work, and together with Sam and volunteers builds what he calls an "exoskeleton of scaffolding" around the site. The volunteers must learn to lace the branches to create a "structural weave." That kind of work was well-suited for the Georgia Tech student volunteers who, he says, brought a problem-solving approach to their tasks.
Dougherty then shapes the sticks so that they "gesture" in a certain direction, giving the surface a wispy, windswept look that evokes motion and mutability.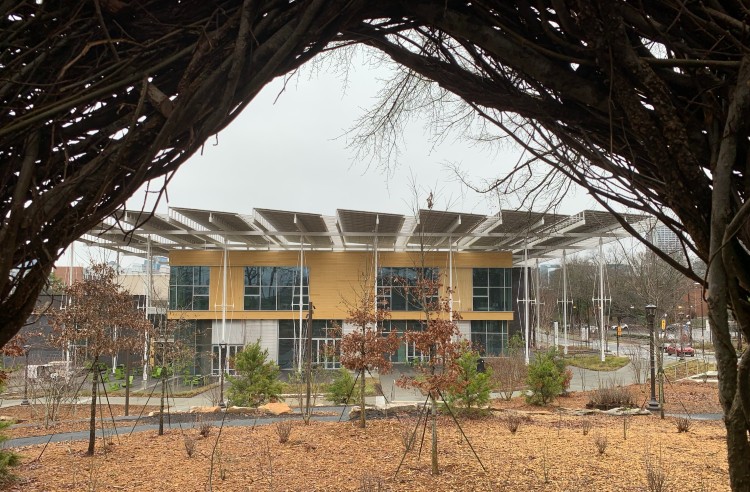 Sometimes, his "stickworks" take on playful leans and curves. Several feature twisted onion-dome roofs. One looks as if it has camel heads growing off the tops of teapots. A couple look like soda bottles leaning into each other. Most have doorways to welcome visitors in and windows from which one can frame the surroundings.
Dougherty shares that A Chip of the Old Block was particularly influenced by the campus buildings that rim the surrounding landscape. While the work is closest to the Kendeda Buildings, it's actually the first major piece of art to be installed on the campus' emerging EcoCommons, a restoration project surrounded by the built environment.
"One way of establishing a relationship with a site is to be reactive to the things around it," Dougherty says. "When you see all the buildings around have these stair-stepped profiles, you can't be unaware of that … The work itself harkens back to origins in some way. It's architecture, but it's the most simple type of building."
A Chip Off the Old Block was funded by the Kendeda Fund with a grant that originally had been set aside by the Kendeda Building project team to help satisfy the arts requirement of the Living Building Challenge Place Petal. But the grant was pushed back, and the building team settled on a mural inside the building by Atlanta pop artist Beardy Glasses, which could be completed more quickly, building director Shan Arora explains.
At the same time, Arora points out, Dougherty's work extends the intent of the arts imperative to support artwork.
"It's crowdsourced, and it's made out of natural materials that have been locally sourced," he says. "It contains no chemicals, no fossil fuels. And one day it will decompose and disappear."
Dougherty expects his village of strange, tiny bungalows to remain standing for two or three years, but he stresses it's intended to be temporary. The structures lose their form as the sticks begin to rot, typically within three years.
"I like the cyclical nature of things," he says, "and sculptures tend to wear a site out."