This is second part in a three-part story on the new positive waste in the Kendeda Building for Innovative Sustainable Design. Read the first part here.
The math of "net positive waste" is pretty basic: Divert more stuff from the landfill than you send to the landfill. As with many simple formulas, the challenge lies in the details.
It may be clearer to think about the Living Building Challenge Materials Petal as calling for net negative waste. The point, after all, is to end up with less waste than would have existed had the project never come about
"Reducing waste cannot get you to net zero alone. You're still going to produce some material that goes to the landfill," says Skanska USA's Jimmy Mitchell, who has shepherded the Kendeda Building's Materials Conservation Management Plan throughout the construction process. "So you have to find some materials that you're — theoretically at least — diverting from the landfill."
In other words: Salvage. Imperative 14 of the Materials Petal requires new building projects "to feature at least one salvaged material per 500 square meters of gross building area." In the Kendeda Building, that works out to 10 salvaged materials.
It so happens that in Mitchell the project team found a longtime advocate for material reuse. The Georgia Tech graduate was among the founders and still serves on the board of the Lifecycle Building Center, an Atlanta-area nonprofit dedicated to repurposing salvaged construction materials.
By networking with builders and tradespeople, and often performing its own deconstruction projects, Lifecycle has stocked enough construction material to fill a 70,000-square-foot repurposed foundry in old industrial section of westside Atlanta and claims to have diverted my than 4 million pounds of material in its first seven years of operations. The items run from basic building supplies such as plywood, bricks and laminated beams to finish items like cabinets, light fixtures and cast-iron bathtubs
The organization partnered with the Kendeda Building team to fulfill one of the building's more complicated material needs. During the design development phase, architects identified a need for some 20,000 two-by-fours, which didn't need to be rated for structural qualities. Through a relationship they'd built with Atlanta's film industry, the organization was able to supply most of those boards from struck movie sets.
Lifecycle is on the Atlanta front in a national movement to incorporate reuse more fully into the construction supply chain. Similar organizations have cropped up over the last couple of decades in Chicago, Detroit, Honolulu, Pittsburgh, Portland, Washington, D.C., and other cities. Unlike an earlier generation of privately owned salvage outlets, the newer iteration typically is a nonprofit supported by major players in the local construction sector, incorporates deconstruction teams into its operations, and is explicit in viewing its mission as part of a larger material conservation effort.
Lifecycle Executive Director Shannon Goodman, a former Perkins + Will architect, hopes the movement she's helping to lead eventually will transform the entire material supply chain.
"The reuse industry needs to continue building more circular economy partnerships to repurpose reclaimed materials on a larger scale, " Goodman says.
Salvage on campus
Even before the Kendeda Building was proposed, that circular supply chain was beginning to form at Georgia Tech. The university been tinkering with salvaging materials on a 400-acre campus rich with historical buildings. The university's Facilities Design and Construction office had begun storing salvaged materials in an underused warehouse on the campus' western edge known as the Grinnell Building
But "the Living Building project has caused Tech to pause and consider how to best use salvaged material from major or minor building demolition," Gary Jelin, the Institute's associate director of Design Services, wrote in an email.
After Skanska was named contractor, the company expressed interest in a warehouse to accumulate and process salvaged material for the Kendeda. Jelin was able to offer use of the Grinnell Building. By the time construction began last year, the Grinnell Building was stocked with neat piles of granite curbs, metal fixtures all manner of wood products and a host of other odds and ends.
The warehouse was just one of the advantages Georgia Tech could offer to help the Kendeda Building design and construction teams meet the salvage requirement. Another was access to campus renovations and demolitions.
Led by Mitchell Lord Aeck Sargent architect Allisa Kingsley, the design team's Materials Working Group began to scout those projects to find salvaged material that might be fit into the building.
When the university updated the aging roof of the Georgia Tech Alumni Association building, Mitchell and company claimed a couple of pallets gray slate to be converted into tile for the walls and floors of showers and restrooms.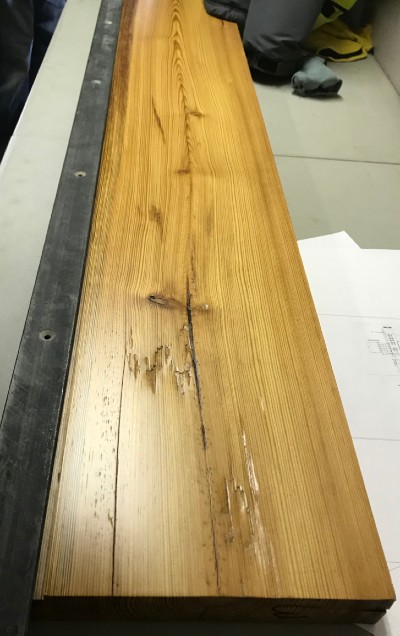 During a renovation project for the 140-year-old Tech Tower, the team identified heart pine joists that will serve as treads for the Kendeda Building's monumental staircase.
"It's a process that can sometimes move forward and then backward, " Kingsley says. "Sometimes the restraint [of having a specific amount of peculiar material] can be the mother of invention. You find this material and then the question becomes: How can you use it? We took what we had and tried to find a special moment — small places within the building to bring in a new design element, a new design detail."
The access advantage that Georgia Tech provided as the building owner didn't event stop at the campus line. By it's a state school, the design was allowed to prospect for materials from other state buildings that were undergoing renovations or deconstruction.
Toward that end, Kingsley and Adam Deck, then director of operations at Lifecycle, took a field trip early last year to the old State Archives Building. The modernist marble cube, which sat on a corner a stone's throw from the state Capitol, was slated for demolition, to be replaced by a new state justice complex.
Kingsley still talks about that visit as a personal highlight on the project. As they toured the empty Archives Building, she identified elegant doors, metal fixtures, and exotic wood finishes and built-ins that might be of use in the Kendeda Building.
Deck was there to offer his "expert opinion on what they could feasibly breakdown," Kingsley said. Unfortunately, the iconic white marble facade proved unusable. It was nearly impossible to pry the thin slivers of stone from a synthetic backing to which it had been glued during construction in the mid-1960s.
The only material salvaged from the Archives that the Design Team managed to work into the project so far were granite curbs that will be used in the landscape. Kingsley says the team may be able to work in some metal door pulls as well, and Lifecycle for its part pulled out some teak cabinetry.
But the slim haul from a building replete with quality finishes underscored another consideration in the LBC's Materials Petal: End-of-life recycling. A hundred years from now, if someone decided to tear down the Kendeda Building, its designers want the parts to be reused — not sent to a landfill.
"That," Kingsley says, "is the kind of thing we're trying to avoid in the Kendeda Building."
Read the third segment in this three-part story by clicking here.