The Kendeda Building for Innovative Sustainable Design is fast approaching submission of the first — and most massive — batch of documents that we're required to provide as part of the Living Building Challenge certification process.
On certain aspects, we believe we've gone above-and-beyond the requirements.
 In addition to preparing the documents, we've completed some key requirements for certification. Here's a quick look at four of them:
On July 29, we completed three additional weeks of rainwater-to-drinking-water testing. For this round, to meet the requirements of the Georgia Environmental Protection Division, we retested the water with the inclusion of chlorine. While our preliminary results look promising, we have to wait for an official EPD determination. April Kelly, of Environmental Health & Safety, is overseeing this process.

Our Building Manual is thorough and available online

here

. (The section on Water Management is almost complete and will be posted soon.)

Permanent signage for the building has now been installed. To satisfy the Living Building Challenge's Beauty Petal, the building's signage should inspire and educate visitors. We think our signage does both!

The LBC also requires a brochure, which is now complete. Click here to read or download the brochure.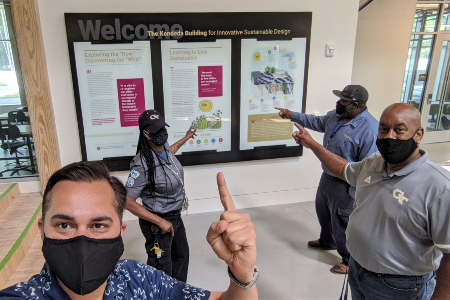 Facilities Management Architect Marِía Ceballos spearheaded both the signage and brochure projects. Anne Rogers and Sarah Neville of Campus Sustainability, Jessica Rose of Facilities Management, Rachael Pocklington of Institute Communications, and Drew Cutright of Sustainability and Building Operations were among those who contributed ideas and edits to the signs and the brochure. 
Shan Arora is director of Kendeda Building for Innovative Sustainable Design at Georgia Tech. PHOTO AT TOP: Signs inside and outside the Kendeda Building are designed to meet a Living Building Challenge requirement to educate visitors about the building's sustainable features. Photo by Ken Edelstein.