The fluted flooring now installed at the Kendeda Building for Innovative Sustainable Design has a story to tell, and it's not just about the wood.
Actually, the wood part is quite interesting. Salvaged two-by-fours contributed half the lumber used for nearly 500 floor panels throughout the building.
But it's the human side of the story that will make you feel good.
As is common when one re-purposes salvaged materials, putting together those floor panels was bound to require a lot of labor. At first, Skanska was looking for one company to assemble the nail-laminated panels along with the building's other structural wood. Suppliers were happy to bid on fabricating the glue-laminated posts and beams that form most of building's skeleton. But they weren't eager to take on the floor panels.
"Any time you have salvaged materials, any (subcontractor) is going to have questions about the quality of it," Jimmy Mitchell, the Skanska USA project manager who's shepherded many of the unique features of the Living Building on the Georgia Tech campus.
How could the wood fabricators be sure that the used two-by-fours weren't warped or broken? What if there wasn't enough good wood among the salvaged material? How much time would it take for quality control?
Mitchell was confident of the quality. The bulk of the two-by-fours came from Atlanta movie sets, where they were used just used once, then salvaged by the Lifecycle Building Center, a nonprofit that specializes in culling materials for reuse. Plus, the two-by-fours were really only needed as spacers within floor panels where the two-by-sixes would provide the structural support. But all that's still different from the systematic grading by a mill of virgin lumber.
"The industry is set up where you put together a bid package, and you hit send, and you get your bids back," Mitchell says. "On this project, you sometimes don't get a bid back because you're asking them to do things that are unusual."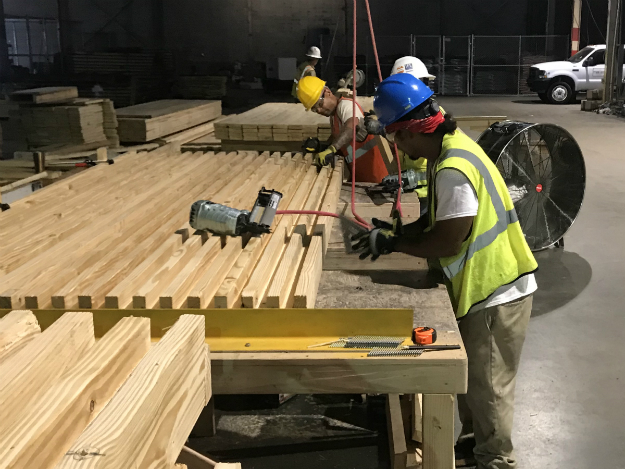 Mitchell sought approval from the Skanska brass for another approach. As the general contractor, the company delegates tasks most carpentry work to subs. Sometimes, though, that's unavoidable.
As an active participant during the design phase, Mitchell was familiar with another project goal that might tie into the need for labor. Since planning began, Georgia Tech, the owner, and The Kendeda Fund, the funder, had been seeking ways for project to exceed the requirements of the Living Building Challenge's Equity Petal. Among other things, the Equity Petal aims "to transform developments to foster a true, inclusive sense of community that is just and equitable." Early on, an Equity Petal Working Group that Georgia Tech put together identified getting disadvantaged workers into the workforce as one way to work toward that goal.
"We felt like this was an opportunity to have a positive impact," Mitchell says.
Skanska turned to GeorgiaWorks, an organization funded by the construction industry to train chronically homeless men and to help them find jobs. Many GeorgiaWorks trainees struggle with substance abuse. Others join the program soon after leaving prison. The nonprofit provides housing, counseling, workforce training, and help with employment-related skills (such as resume writing). Then, the man are placed in paid apprenticeships.
Skanska tasked senior superintendent David Luffel, whose skill set includes carpentry and mentoring, to manage a small crew of Skanska employees and GeorgiaWorks apprentices to nail together the panels.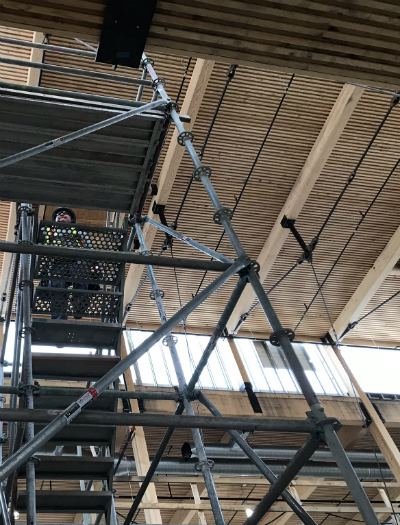 Sounds straightforward, but it was a big job. Throughout the spring and summer, Luffel oversaw the team of four workers in a warehouse that Georgia Tech had set aside for Skanska. (Six GeorgiaWorks apprentices were among those who rotated into the job; occasionally they were supplemented by the Skanska workers.)
On the day I visited, Luffel was working a chop saw, and sliding the 10-foot-six two-by-fours and two-by-sixes down to two GeorgiaWorks hires. Kenyatta Daniels and Frank Hogan worked together with Skanska carpenter Jose Torres to line up the boards on a specially constructed table — alternating the new FSC-certified two-by-sixes with the salvaged two-by-fours, and nailing each to the floor deck so that it grew wider with each board.
When the panel reached its full width of just over six feet, it was moved to a stack where another worker checked for blemishes. Finally, in late summer, when carpenters from Universal Timber Structures arrived at the building site, the 489 panels were transferred from the nearby warehouse.
"It's really been working better than I expected," Luffel told me during the visit, as the GeorgiaWorks men operated their nail guns. "These guys are eager to get a chance, but in a lot of cases they just haven't had the training. They've turned out to be really motivated workers."
From Mitchell's perspective as a project manager on a Living Building Challenge project, the setup provided additional benefits. While two-by-sixes were out-of-state FSC-certified timber, the salvaged two-by-fours were sourced locally, and the floor panels themselves were assembled less than two miles from the work site. That reduced the lifecycle carbon footprint for the panels because they didn't have to be transported to a fabricator and then shipped back.
Another benefit: The entire job ended up costing around $300,000 — barely a quarter of the one bid they received from the only outside fabricator that was willing to consider that task.
For the GeorgiaWorks employees, the project was potentially life changing.
"It's been like a miracle to me," says Daniels. "The best decision I ever made in my life was going to GeorgiaWorks."
The Kendeda Fund's Dennis Creech confesses that the impact on half a dozen workers was "a drop in the bucket" in addressing such massive problems as chronic homelessness, prison recidivism and poverty-stricken communities.
"The real hope is that this sort of thing catches on as it's proven to work," Creech says. "Big players like Skanska and Georgia Tech need to show that they want to play a role in making struggling communities stronger. Then, they can encourage all the small subcontractors to start engaging in programs like GeorgiaWorks also, because it's the subcontractors who really do most of the hiring."
Once the job was done, Luffel made sure to take it one step further. He advocated that Daniels be hired for a full-time job with Skanska. In a rarity for the construction giant — which relies on subcontractors for most of its labor — Skanska did offer him the job.
Then, something happened that may say even more about the skills Daniel had acquired: Another company quickly hired him away.
"Yeah, we lost him to a competitor," Mitchell says. "I guess that's a sign that he truly is in the workforce."
PHOTO AT TOP: GeorgiaWorks employee Kenyatta Daniels grabs a two-by-six while Skanska carpenter Jose Torres (center) and GeorgiaWorks' Frank Hogan work on a Kendeda Building floor panel. Photo by Ken Edelstein.