A Singaporean hospital is the inaugural winner of the Stephen S. Kellert Award for Biophilic Design. It's the latest effort by the International Living Future Institute and CEO Amanda Sturgeon to place biophilia front and center in the green building movement.
"Khoo Teck Puat [hospital] surpasses traditional hospitals and opens the door towards a new kind of building type for the healthcare industry, which considers how the built and natural environment can become part of the healing process," Sturgeon said as the award was given during Greenbuild 2017 in Boston.
---
---
---
Early this year, ILFI launched its Biophilic Design Initiative, which "aims to achieve the goal of broad adoption of Biophilic Design among the design community, building owners and cities." This summer, IFLI's imprint, Ecotone Publishing, released Sturgeon's book, Creating Biophilic Buildings. And at the Kellert Award event, ILFI rolled out an interactive map that allows project teams to upload biophilic design features on buildings around the world.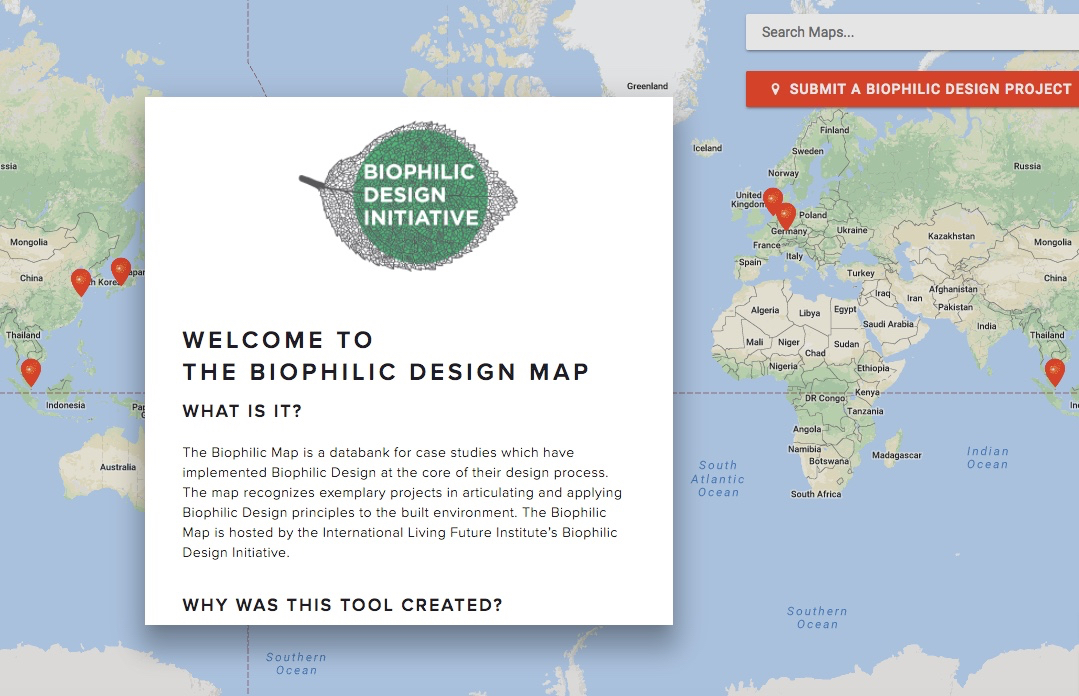 The award itself — named for the late Yale University social ecologist, whom many people consider the father of biophilic design — is given by the International Living Future Institute in an effort to recognize building design that reconnects people to nature, and relies on natural materials and themes to make buildings healthier for people.
Here's how a post at ILFI's Trimtab described the hospital's biophilic features at Khoo Teck Paut:
Designers of the Khoo Teck Puat Hospital used nature as a healing process through paying close attention to all the senses. The rainforest-like landscaping that weaves in and out of the hospital infuses the atmosphere with natural sights, sounds and scents. It's also a natural habitat for butterflies, birds, dragonflies, and fish. The sky bridges provide prospect and refuge, and inside-outside spaces make waiting a more relaxing experience. Notable design architectural features include natural ventilation in patient rooms and collaboration with the city to transform a storm water pond to a lake feature.
"What is most impressive about this project is its post-occupancy evaluation which sampled a group of 200 users comprised of patients, staff, and visitors whom 80% responded yes to hospitals investing in implementing biophilic elements," said Stephen Kieran, AIA of Kieran Timberlake, a juror for the award.
The award was presented to CPG Consultants Pte Ltd,, the architects and building consultant, and Alexandra Health System, which operates Khoo Teck Paut. Four other projects received Honorable Mentions: Cookfox Architects Study and the Etsy headquarters, both in New York City. the Phipps Center for Sustainable Landscapes in Pittsburgh, and Yanmar headquarters in Osaka, Japan.
I took a deep dive into how efforts to encourage biophilic design are playing out on one project here.
If you want to find out more about what happened at Greenbuild, here a wide-ranging roundup from Greenbiz.
DISCLOSURE: While International Living Future Institute is a recipient of grants from the Kendeda Fund and , the Kendeda Living Building Chronicle is an editorially independent website owned and operated by the Fund.