The Kendeda Building for Innovative Sustainable Design generated more than five times the energy it used in April.
Of course, running at quintuple net-positive energy for a month had a lot to do with the fact the building was shuttered due to the COVID-19 pandemic.
"This is yet another example of how regenerative buildings help the planet and pocket books," Building Director Shan Arora noted in an update Tuesday on the project's progress toward Living Building Challenge Certification. While the building was unoccupied, its solar array was sending more than 1,000 kilowatt hours a day to the rest of the Georgia Tech campus.
Among other performance standards required for certification, LBC projects must use onsite clean energy to generate at 105 percent of the energy over the course of 12 months. Georgia Tech officials had hoped to complete that full year of net-positive performance by early 2021. With the pandemic interrupting full occupancy of many recently completed projects, however, it's unclear what International Living Future Institute will allow buildings to count those months toward their annual net-positive energy performance.
Here's Arora's entire informal update:
Path to Certification
The "Path to Certification" Committee met on May 6.
Energy – During this strange time of lockdowns, The Kendeda Building is missing its students, visitors, and office occupants. Because it was designed to be net-positive energy over a year of full occupancy, now that the Kendeda Building is largely unoccupied, it was 522% net-positive energy for the month of April! The building's solar system exported 38,673kWh to the campus grid for consumption by neighboring labs and buildings. The exported energy in April represents monetary savings to the campus. This is yet another example of how regenerative buildings help the planet and pocketbooks.
LBC Certification – LBC documentation is progressing on schedule.
Living Future 20
The Kendeda Building was well represented at the virtual Living Future 20.
From Scarcity to Abundance: The Regenerative Power of Net Positive Water. Erin English (Practice Leader & Ecological Engineer, Biohabitats) featured The Kendeda Building and showcased how it is establishing an inspirational, educational and performance-based paradigm for resilient water design in the Southeast and beyond.
Delivering on the UN SDGs: Validating Progress with ILFI's Programs. Myrrh Caplan (National Sustainability Director, Skanska) showcased how The Kendeda Building helps further the UN Sustainable Development Goals.
Seven Living Buildings – Why and How They Did It. Dennis Creech of The Kendeda Fund provided attendees with The Kendeda Building's inspirational story.
LBC Commercial Building Tours: Seattle to Atlanta and Back Again. This session included a 13 minute video tour of the building.
Awards and Honors
The Kendeda Building has been certified as a native plant habitat by the Georgia Native Plant Society! Many thanks to Steve Place for spearheading the process and to Kamilah Roberts for helping make it happen!
Georgia Tech won the 2020 RecycleMania – Race to Zero Waste (One Building) category for the work done at The Kendeda Building. A big round of applause to Emma Brodzik, Sarah Neville, and Malte Weiland, along with everyone else who assisted!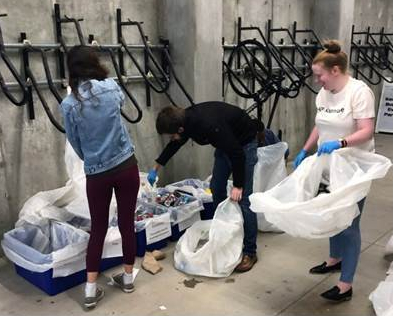 Social Media Update
We launched The Kendeda Building's social media accounts on April 8. We've had a respectable uptick of followers… for a building – please don't compare us to celebrities (yet)! The numbers below represent organic growth.
Instagram: 151 followers
Facebook: 233 followers
LinkedIn: 233 followers
Twitter: 30 followers
Feel free to promote our social media account to individuals you think will be interested:
IMAGE AT TOP: Instagram post of a virtual panel discussion at Living Future 2020. Georgia Tech's Shan Arora is on bottom right. Courtesy of Shan Arora.