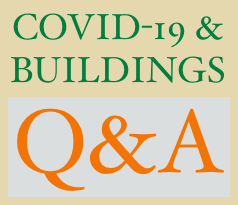 Based in Dallas, Mary Dickinson is Perkins+Will's regional sustainable design leader and co-director of the firm's material performance research lab. She got her start designing for the healthcare sector, but her work now involves all buildings types. (This Q&A is part of a series on covid-19 and green buildings. It was edited for length and clarity, and relevant links were added after the fact. To view the others in the series, click here.)
What kind of changes do you see in the way we'll approach health and wellness in buildings?
Some people might not be ready to take a dive into a rating system to find strategies to impact health and wellness, but a lot of them would be interested in the impacts on best practices. Healthcare has been [dealing with infectious diseases] for a long time. There are other building sectors within the commercial real estate world that might want to adopt some of these best practices. And … there are still additional strategies [healthcare clients] would like to add — for example, elevating air quality strategies.
We've been looking at mechanical systems and then seeing if we can reduce any harm through air-filtration. This became very important in working with the American Cancer Society on their Hope Lodges [for cancer patients], whose occupants need to be protected due to being immuno-compromised. We installed carbon filters, UV sterilizers and stacked MERV filters to catch different sized particles.
[In buildings outside the healthcare sector], I think people are going to become much more attuned to the quality of the outside air, much as [they've become] attuned to the quality of air inside the building, so we can ask: "What is the performance of that fresh-air intake?" "Will it do more harm than good?" And "what is the performance of the filter that is being used, and can it address the potential pollutants being brought in?"
There's a lot more you can do. We've been using … ionization which can make particles in the air heavier so they fall to the floor and don't linger in the air where they're inhaled. HLRs [HVAC load-reduction modules] are one of the highest performing air-filtration systems, with an added benefit of improving energy performance due to lowering the outside air volume. But can they be used to reduce the chance of viruses? 
We need to do a better job of distributing air. If you are recirculating it from multiple locations in a building, what is the harm that could take place? … When you talk about best practices, you need to study all the areas that could impact your environment, and we need to be very evidence-based in the way we approach this.
There's also a lot of work on the cleanability of materials and on working with modular materials. We don't want to provide materials where a lot of bacteria or microorganisms could grow. Or we want to be able to easily replace it. … To add to this, now I need to consider: How do I design if an airborne or an aerosol (pathogen) lasts for, say, three hours, or 24 hours, or three days based on the material I specify?
Buttressing our buildings for this viral threat has some parallels to the kind of resilience we talk about in relation to climate change, doesn't it?
When we talk about resilient design, we talk about the shocks and stressors: If a storm comes, how can we prepare for the impact, knowing it's not a question of if but when? A viral threat is similar, but it brings up social-impact questions: How do we have to change our behavior, and how can we better prepare for what society brings our way?
One idea is flexibility. Regulations require that hospitals have a certain number of isolation rooms with their own dedicated exhaust and controlled entrances. But in our work with the [University of Oklahoma] Medical Centers, we made it so that the whole top floor [of a new building] could be used as an isolation area if necessary. We were designing that shortly after the Ebola outbreak, so pandemics were on everybody's minds. The entire floor was designed so that we could just close it off if a pandemic were to happen. They're utilizing that now.
I don't know if these are things that other sectors might take up. But if we did, we could offer people a sense of security — being able to give folks a place to shelter until a loved one could pick them up. …  Say, you're designing a large office building. Is that something that might be worth considering? Or at least to have the flexibility to designate a room that can double as an isolation space in case it's necessary?
There's a risk of over-fitting the design to the current situation when the next crisis might be very different.
Well, I think we need to just put everything up on the board — all the social, economic and environmental shocks-and-stressor possibilities. And then we have to weigh the likelihood and the severity of the ramifications of each. What's the ROI? If it's not a high cost and [is] something that can be built into the design, why not do it? If it does have a high cost, is it something that I'm going to benefit from anyway on a daily basis, no matter what happens? Is it something where we're talking about improving the air quality or the water quality or people's sense of well-being?
How might this new risk suddenly being on everyone's mind speed up the adoption of sustainable ideas?
From an integrated team standpoint, when you start talking about changes in standard practices in plumbing or air filtration and it affects the layouts, you pretty much have to bring  the whole team in.
We were all working within the sustainability realm for a long time, and then we saw all this interest in health and wellness, and everybody was concerned that now we were going to forget about the environment. But it's not an either-or. …. We don't have to sacrifice one for the other.
On [a client's project] where we were putting the HLR system in . .. the thing about the integrated approach is that everybody had to hear the same thing at the same time. The owner needed to hear our concerns about the horribly polluted air conditions of the site and understand how the HLR system was the best solution. After openly weighing the risk to their occupant with the team, the aggressive system became a priority.
That's the way we've worked in sustainability, and it would work in absolutely a similar fashion when we address these sorts of ideas [in response to the viral threat]. And we can talk about them [sustainability and viral threats] at the same time.
The pandemic affects sustainability and resiliency in unexpected ways. Look at the stresses on our infrastructure right now. Look at the possibility of energy blackouts while everybody is staying at home. Do we want to implement as much daylighting as possible to make energy more resilient? … We were all working within the sustainability realm for a long time, and then we saw all this interest in health and wellness, and everybody was concerned that now we were going to forget about the environment. But it's not an either-or. … We don't have to sacrifice one for the other.
Still, could the infectious threat clash with other values?
I do worry that the worry of viruses and microbes is going to lend a sense of false security to solutions that haven't been proven, especially as it relates to the use of antimicrobial in building materials that market health claims
It seems like this is going to encourage us to work apart, to separate ourselves more.
Yes. We've been seeing, in a lot of these wellness programs, efforts to get out of these closed offices, and put in bench seating, and niches where people can meet, and spaces that encourage more social interaction. I'm wondering how we're going to approach that now. How are we going to handle these social interactions?
But we are social creatures. … So we need to be creative. Everyone now knows the six-foot rule, and if we need to maintain a certain distance from our desk neighbor, there could be a better solution than adding square footage to our rentable space. Perhaps we can add distances to our workspaces by providing fewer of them. There's the idea of "hoteling" or "free addresses" in offices, where workers can have lockers and there are a set amount of unassigned workspaces. Perhaps there's a way of checking out workstations for a certain percentage of the staff that are not traveling or have meeting needs. If you don't have one for a day, you might work from home since we've all been learning how to make remote working productive. That may still work, but there's probably going to need to be an increase in the cleaning protocol. At the same time, it could allow us a daily change of scenery and indoor environments that meet our comfort needs — another sustainable synergy.
It puts us all in a whole new area that we knew very little about. All of a sudden, we all need to be epidemiologists,
PHOTO AT TOP: Mary Dickinson of Perkins+Will. Courtesy Mary Dickinson.