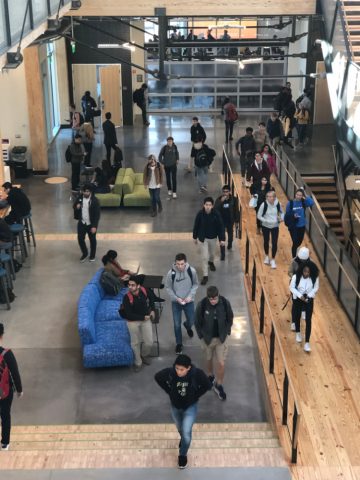 Now that spring semester has begun at Georgia Tech, the Kendeda Building for Innovative Sustainable Design finally can be marked down as fully occupied.
That's significant because university personnel and contractors now can begin to evaluate and adjust the operations in the Southeast's greenest building in earnest. Some faculty and staff moved into the building in September, and Georgia Tech hosted a dedication in October — with a busy slate of events all fall as well as occasional classes. But a full schedule of classes will affect energy and water use. It also allow Building Director Shan Arora a get a better handle on how students respond to the building.
Once Georgia Tech irons out any operational issues, it will be in position to start the clock on the building's one-year pre-certification clock. Over those twelves months, the building must (among other things) operate at net-positive energy, and collect, treat and discharge its own water and wastewater.
The 47,000-square-foot Kendeda Building includes up two eight spaces for classes of various sizes, including an auditorium and a maker lab; informal meeting spaces; a green roof and large porch; and an office suite, Georgia Tech's Global Change Program, its Office of Sustainability and the building director occupy the offices. The building is also intended to be a living laboratory to test and exhibit its cutting edge systems, design and materials.
PHOTO AT TOP: First day of classes in the Kendeda Building auditorium. Photo by John DuConge.