Upon the Kendeda Building's completion, we asked a few prominent change leaders in sustainability and other fields to offer their insights. At the heart of all their columns: What should and can be done to encourage regenerative design and construction. Read more of these Building Thought Leader columns and other content tied to completion of this landmark for sustainability in the Southeast here.
As a child growing up on Long Island, my family and I would spend summers with my grandmother at her cottage in the country. I have wonderful memories of picking berries and foraging for mushrooms with her, alongside wonderful days spent at the beach clamming and exploring abundant sea life in the tidepools.
This sort of thing leaves an imprint on a young soul. Bees buzzing over flowers, the scent and feel of mossy pathways in shaded woodlands, days when the natural world seemed always close by and accessible.
Most of us have similar memories of nature burned into our brains at an early age. At least, I hope we do.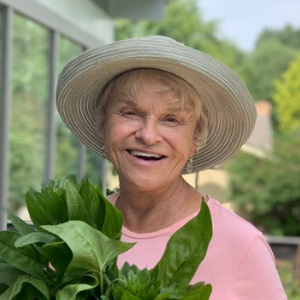 I listened recently to a report on South America's rainforests. More than 2.2 million acres of the Amazonian biome have been lost this year to nearly 40,000 wildfires. The implications for climate change are incalculable.
We are decades removed from my early clamming days. Five thousand miles separate Long Island and the Amazon. And I don't need to note that a bucketful of berries is very different in scale from tens of thousands of forest fires.
To me, though, that childhood imprint is fundamental to understanding why destruction of the "lungs of the world" presents such an enormous problem to us all. We can learn all about carbon released by the burning trees, sediment that will be flushed by world's greatest river into the Atlantic Ocean, the loss of species that scientists haven't even identified yet, the destruction of native cultures that have so much to offer our world.
But it is something within us that tells us this is all terribly wrong. And that something was embedded in us — individually and collectively — from our lived experiences in a time and place where we were more in balance with the natural world.
This is part of what struck me in 2013, when I first toured the Bullitt Center in Seattle. That landmark Living Building proved, like nothing I'd seen before, that it was possible to design and construct a regenerative building on a significant scale. As the Bullitt Foundation's visionary leader, Denis Hayes, led us through the center's light-filled, timber-framed spaces and up the "irresistible stairway" that invites visitors to forego the elevator, I decided the Kendeda Fund needed to create a similar Living Building project in our own backyard.
When it comes to sustainability, the South has historically lagged behind the rest of the nation. I moved here 40 years ago from California, where "green" has long been a value, a part of the public consciousness. Yes, we do have green building in the South. Atlanta is perennially a leader in LEED construction. But I am talking about a fuller kind of sustainability — one that seeks to re-balance our relationships both with nature and among human communities that often seem out of sync with each other, one that aspires to do real good rather than just less harm.
This kind of transformation doesn't happen overnight. Regulations and incentives are important in pushing innovation. But every physics student knows that the pull is more efficient than the push.
It is my hope that a real and functioning place — a living example of a Living Building — can provide some much-needed pull.
That was one of the reasons that we found it so attractive to partner with Georgia Tech to build a multi-use building that meets the high standards of the Living Building Challenge. As one of the world's leading engineering schools, Tech brings amazing levels of expertise to the table. And over the last two decades, its own campus architects and planners have done an amazing job weaving sustainability into everything they do.
My excitement about our partnership with this formidable institution is centered on the relationship that can now grow between the Kendeda Building, the students and the programs that take root and blossom around the building.
It is true that one 47,000-square-foot building won't materially change the environmental and social impact of buildings in the Southeast or even on a single campus. But one building can serve as an impetus for new ways of approaching the world we want to live in.
I hope the Kendeda Building will grow into a bridge between the small, direct experiences that balance humans and nature, and the huge environmental problems that many of these students may play a key role in solving. I hope that it imprints something about that balance on their souls. And I hope when they graduate and become leaders in architecture and engineering, in business and public policy, in community development and philanthropy, that they will take the lessons learned at Tech and use them to change the world.
To fulfill the Living Building Challenge's Urban Agriculture Imperative, the design team opted for a foraging landscape, rather than a conventional row-crop garden. Among the edibles, readily available to any visitor are blueberries, which should begin to appear as early as next spring.
So let's wait a few months. Then, come April, let the berry picking begin.
Diana Blank is a mother, a grandmother, a philanthropist and lifelong lover of the outdoors. Guided by her twin passions for social equity and the healing power of nature, she founded The Kendeda Fund in 1993. Since then, the foundation has made nearly $700 million in grants, helping communities across the U.S. and around the globe confront big challenges while building equity, vibrancy, resourcefulness and resilience. Blank served on the National Parks Conservation Association's Board of Trustees for eight years, was co-chair of NPCA's Northern Rockies Regional Council, and is now an NPCA Trustee Emeritus. She splits her time between Atlanta, Georgia, and Bozeman, Montana.
PHOTO AT TOP: Courtesy Georgia Tech.