Labor Day may have come and gone. But last weekend was celebration time for the workers who built the Kendeda Building for Innovative Sustainable Design.
Some 300 laborers, architects, carpenters, suppliers, engineers, electricians, maintenance workers, masons, philanthropists and just about anyone else who had anything to do with putting together what may now be the greenest building on an American university campus mingled Saturday and swapped stories.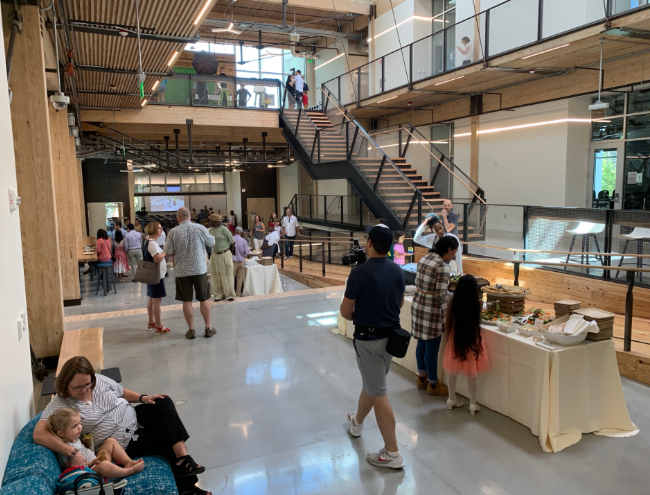 "Most of the time you don't get to see this," Christian Perez, a carpenter for Skanska USA, said as he relaxed in an atrium where exposed mechanical systems and natural wood frame the light let through by generous glazing. "Usually you do what you need to do, and you move on to the next project. You don't see the building after it's done."
Among other activities, project team leaders led tours for workers (who seldom learn little about a building beyond their own scope), as well as for curious relatives. As usual on tours of this building, the composting toilets garnered the most questions. But there was, uhm, substance behind the ensuing conversation — particularly when lead architect Joshua Gassman explained to one group that composting benefits the climate because it leads to less methane production than conventional wastewater treatment.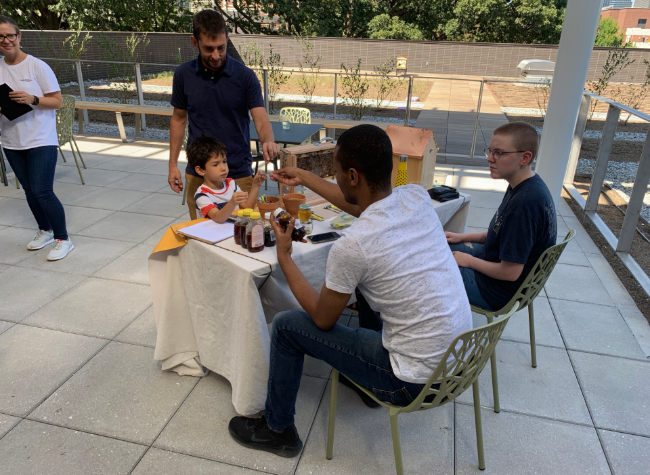 "Friends and Family Day" was a nod toward the Living Building Challenge Equity Petal, which encourages project teams "to transform developments to foster a true, inclusive sense of community." And if any part of the community becomes invisible once a building is complete, it's the people who worked on it.
Greg Spiro is an exception to that rule. As the Georgia Tech mechanical engineer who made sure that the project team's work dovetailed with the university's needs, he's typically involved in campus buildings both before and after construction.
So in a sense, his job's never done. When asked what he thought of the finished product, he looked down at the concrete floor. He knows what lies beneath: radiant piping that heats and cools most of the building.
"We still have to test [whether a tie-in between the radiant system and a campus chilled-water loop is working properly], but it's looking a petty good," said Spiro, who brought his family — including a beaming mother — along to see his work.
"There's no building like this in a hot, humid climate zone," he said, with his own happy smile. "And there's no living building that I know of that has such a varied, complicated set of programs."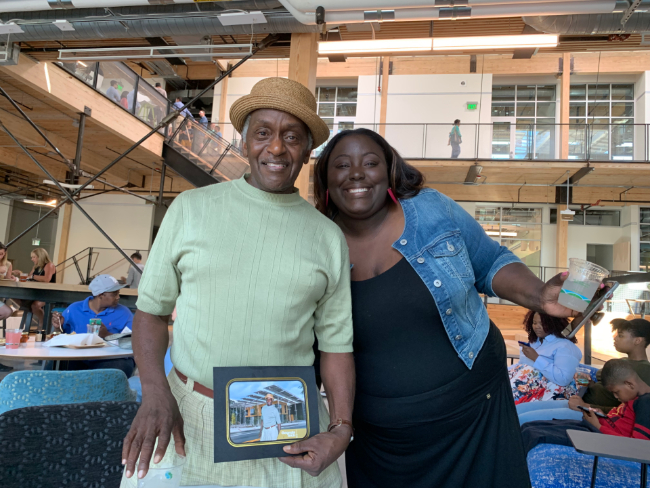 About 30 feet over, Perry Butler was entertaining a table full of fellow celebrants with stories about the 18-month construction job. As a laborer for a temp agency hired by Skanska, Butler first arrived at the construction site when it was a muddy pit of Georgia red clay. He moved on to assembling innovative floor panels alongside graduates of Georgia Works, a program that trains the formerly incarcerated for the construction trades. Near the end of the project, he was the guy who made sure that the interior stayed neat enough to work in.
What part of the project was the toughest? A few weeks separating recyclable materials that made it into the wrong dumpster. "I didn't like that!"
Butler was able to parlay his temp work on the Kendeda Building into a full-time position with another construction company. The same was true for one of the Georgia Works graduates. Giving a former prisoner a leg up on a new career in construction was a tangible (if small) impact for the team's Equity Petal efforts. The impact of recognizing workers, who usually are forgotten as soon as they leave the job site, is more difficult to measure but may be just as impactful.