More than a century ago, the United States Gypsum Corporation brought a product to market that would revolutionize interior walls.
The company called it "Sheetrock," a trademark so ubiquitous that it's mistakenly lumped with the product's many generic names —plasterboard, wallboard, gypsum board, drywall.
It was a pretty straightforward invention. Gypsum (chemically known as calcium sulfate dihydrate) is dried and ground into a powder. Water is added back into that powder to create a slurry, which is then extruded between two layers of heavy paper. The resulting sandwich is pressed, dried again and cut into panels. Finally, at the job site, those panels are screwed to the building's framing and finished with putty.

Compared to the old plaster-and-lathe method, drywall made installing interior walls much quicker, cleaner and less dependent on old-school craftsmanship. It also introduced the advantages of absorbing sound and reducing fire risk. During the post-World War II building boom, drywall became the dominant material for interior walls. Over the decades, additives have been tinkered with, and the manufacturing process has become highly automated. Since its invention in 1917, however, drywall has changed very little.
It turns out, however, that drywall has a sustainability problem. Actually, lots of sustainability problems.
Gypsum mining pollutes watersheds and destroys habitats. The amount of water used to reconstitute gypsum powder into slurry is enormous. Gypsum dust can be a health hazard for both miners and installers. Around 15 percent of the new drywall brought to a job site ends up as scrap. Gypsum creates toxic hydrogen sulphide gas when it decomposes anaerobically in a landfill. And the energy used to dry the gypsum, grind the gypsum and dry the finished panels makes the drywall industry one of the largest emitters of carbon dioxide in the building sector.
Like other drywall manufacturers, United States Gypsum (now known as USG Corp.) has been grappling with those issues for a couple of decades. Increasing recycling rates has been one obvious, early step toward sustainability. In 2006, USG became the first major U.S. manufacturer to establish a program to accept drywall scrap from construction sites. The United States still lags behind the European Union, where the goal is by next year to recycle 70 percent of all scrap drywall. But there is progress being made. Almost all U.S. drywall manufacturers now offer scrap recycling similar to the USG program.
More recycling would help to address the landfilling problems. Along with the sourcing of synthetic gypsum from post-industrial sources, recycled scrap also reduces the demand for gypsum extracted from the earth.
EcoSmart mainstream attempt at reform
There have been attempts to radically address drywall's sustainability issue. One of them, EcoRock, made quite a splash around the time of the Great Recession. Post-industrial waste, rather than gypsum, provided the fill in EcoRock. Serious Energy, the company that manufactured EcoRock, claimed that it required only a fifth of the energy of conventional drywall to manufacture.
But the startup went belly up within a decade. EcoRock itself also suffered from operating outside the well-established supply chain that solidifies gypsum board as the dominant interior-wall method. Suppliers know what to stock and at what price to sell it. Installers have the equipment and expertise to "hang" it and "mud" it. And architects design for drywall's specifications, as well as its versatility.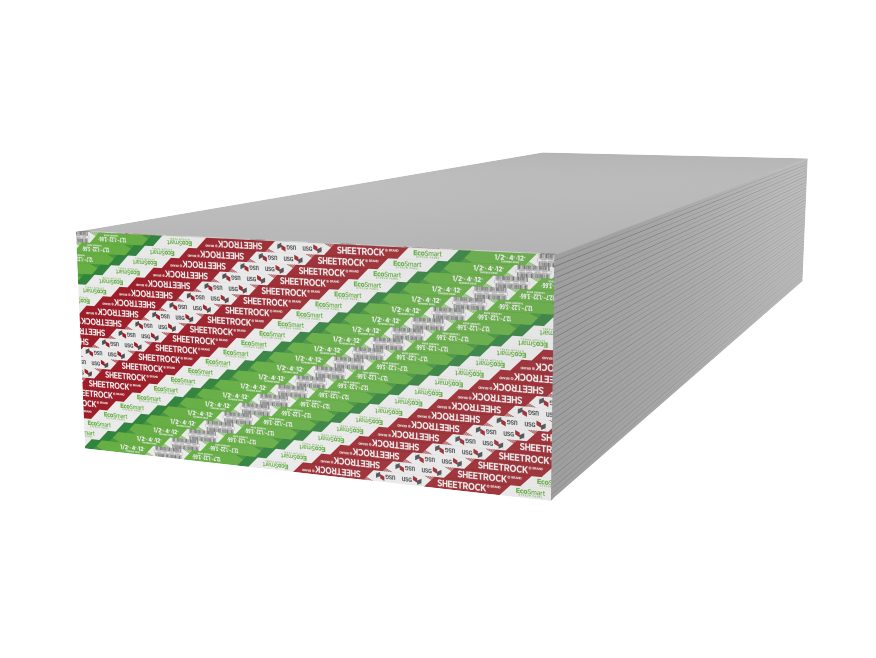 In March 2017, USG introduced EcoSmart Sheetrock, its own more conventional take on green drywall. The product goes beyond tackling raw material and waste issues, and begins to address the product's enormous demand for water and energy.
A year earlier, USG had become the first — and, to date, the only — major drywall manufacturer to adopt the Architecture 2030 Challenge for Products. The Challenge for Products obligates "adopters" to work to reduce the carbon-equivalent footprint of their products.
USG claims proprietary chemicals and processes are crucial to creating EcoSmart Panels. But one key change is pretty straightforward: It takes less water to convert the dry gypsum powder into a slurry. And less water means that less energy is needed to dry the slurry. The company says EcoSmart "requires up to 25 percent less water and 20 percent fewer C02 emissions during manufacturing than standard Type X drywall." (Type X is the most broadly used style, although EcoSmart is rated to substitute for more fire-resistant Type C as well.)
A side benefit of EcoSmart — its lighter weight — could end up doing more to boost sales and expand its usage than the environmental benefits. A perennial issue for installers has always been how heavy sheetrock is. As a result of the formula changes, however, (particularly the reduction in water), EcoSmart panels are eight to 20 pounds lighter than standard sheets of drywall. That side benefit itself offers an environmental benefit: A lighter product reduced the fuel needed for transportation because trucks can carry more panels at a time.
Product basics: USG EcoSmart Sheetrock
Manufacturer: Knauf Gips KG, a privately held building-products manufacturer based in Germany, completed its purchase last spring of Chicago-based USG. Before the consolidation, Knauf already claimed to be the world's largest manufacturer of gypsum board and USG was the largest U.S. manufacturer. Before becoming part of Knauf, USG Corp. was listed on the New York Stock Exchange and reported revenue of more than $3 billion along with 6,800 employees.
Products used in the Kendeda Building: USG Sheetrock Brand Ecosmart Panels Firecode X
Kendeda Building Installer: Ochoa Construction, Hapeville, Ga.
Sustainability characteristics: By using up to 25 percent less water and other process changes, the company estimates that EcoSmart generates up to 25 percent less "global warming potential" (as defined under Architecture 2030 Challenge for Products). Reduced weight could cut transportation fuel by 20 percent. Eight-nine percent of materials used in EcoSmart sheets from USG's Shoals, Indiana, plant (which supplied the Kendeda Building), are pre-consumer recycled (gypsum recovered from industrial processes), 5 percent is post-consumer recycled (e.g. recycled drywall), and 89 percent comes from within 100 miles of the plant, according to the company. While none of the disclosed materials are considered toxic, a propriety strengthener for EcoSmart is listed by GreenScreen as of potential concern.
Certifications: Declare Label (Red List Free), LEED v4 compliant, Type III EPD, v2.1 Health Product Declaration, Greenguard Gold (qualifies as a low VOC emitting material). The Company states that 100 percent of content is certified by USDA as biobased and that EcoSmart meets Architecture 2030 Challenge for Products criteria.
Corporate sustainability and responsibility: USG Corp. ranked higher than 51 percent of all global companies on a variety of sustainability and responsibility metrics, according to CSRHub.
PHOTO AT TOP: Ochoa Construction employee muds EcoSmart Sheetrock on the second floor of the Kendeda Building for Innovative Sustainable Design. Photo by Ken Edelstein.