The humble ceiling fan doesn't deserve an outrageous epithet like, say, Big Ass. Does it?
Then again, the ceiling fan is no longer such a humble instrument. Mechanical engineers, experts on the human body and the Kentucky company Big Ass Solutions have established that the rotational devices can be an energy efficient way to reduce cooling costs.

Fans aren't intended to lower room temperature. But they do improve comfort by moving air warmed by body temperatures away from those bodies. Thermal comfort standards, such as ASHRAE 55, now recognize this by accounting for air movement.
In the Kendeda Building for Innovative Sustainable Design, the air movement created by 62 fans has allowed Georgia Tech to raise the top temperature set points for its projected building operations by four to six degrees. In the building's larger, public spaces, such as the atrium and the auditorium, the fans are modeled to move air at 150 cubic feet per minute, and the high-temperature set point will be 80 degrees. In classrooms and offices — where there's a concern that air movement could blow papers from desks — the game plan is for the fans not to work quite so hard (100 cfm), while the building's radiant floors keep temperatures from rising above 78.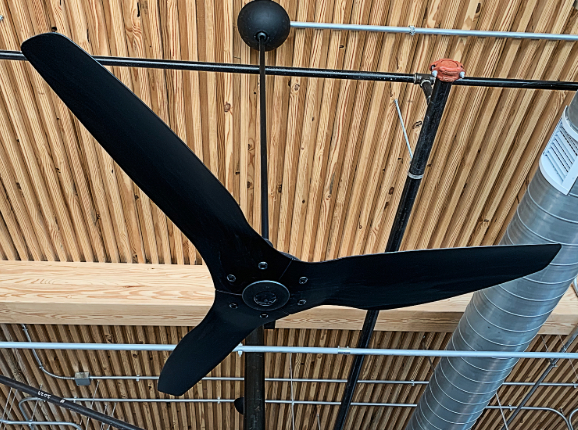 Efficiency experts have long advocated for more reliance on fans. But over the last couple of decades a serial entrepreneur named Carey Smith has brought a certain measure of "cool" — not to mention engineering rigor — to what had been considered the simplest of cooling instruments.
In the late 1990s, Smith began selling HVLS fans. The abbreviation stood for "high-volume, low-speed." Eventually, he bought the California company that made them and moved manufacturing to his hometown of Lexington, Kentucky.
It turns out that Smith has a gift for promotion. By adopting a provocative name for the company, he attracted a little controversy and a lot of publicity. It helped that the product was gaining great reviews for quality at the very time that big, slow fans were finally getting their due from building engineers.
Smith plowed money into research and development, opening a state-of-the-art (and LEED Gold) testing facility. That research has yielded innovations. The blades (or "airfoils") are engineered aerodynamically to maximize air movement yielded versus energy expended. In 2004, the company added winglets to the blade tips to increase efficiency. Big Ass Fans feature circuit boards and automated controls that adjust to the seasons and room temperatures.
In 2012, the company launched, Haiku, a not-so-big line for homes and small offices that has been dubbed "most efficient" by Energy Star. After various upgrades, the Haiku features many of the smart home, energy efficient technologies that are revolutionizing residential HVAC systems.
When it came time for the Kendeda Building design team to settle on a brand for the fans that would help to cool the building, there was a push to find a manufacturer that met the Living Building Challenge imperative that the product not include any Red List materials. Wiring in Big Ass fans is insulated with polyvinyl chloride, which is barred from Living Buildings because of the cancer risks associated with PVC's production, use and disposal. In a statement provided to Living Building Chronicle, a Big Ass Solutions spokesperson said: "We're constantly evaluating our processes and sourcing to ensure we're offering premium products not only in design but performance. … At this time, there is not a sufficient, effective replacement our design and sourcing teams have found for the wire coatings / coverings on a mass scale across [the] product supply chain."
But there were two problems with the idea of finding a fan that met the LBC anti-toxin requirement. First, as Skanska's Jimmy Mitchell put it, "the fans from all the manufacturers ended up having at least some Red List item in them." Second, no other company could provide as efficient a combination of the large and small fans that the building's HVAC design called for. 
Product basics: Big Ass Fan
Manufacturer: In 20 years, Big Ass Solutions has revolutionized the ceiling fan industry. The Lexington, Ky., company now makes nine models of ceiling fans and six floor fans, and recently began manufacturing LED lights for industrial spaces. In 2017, founder Carey Smith sold the company to Lindsay Goldberg, a New York private equity fund, reportedly for $500 million. The company has won recognition on multiple occasions for its product development, treatment of employees and rapid growth. It now has more than 900 employees, most of them in the Lexington area.
Kendeda Building installer: Eckardt Electric
Products used in the Kendeda Building: Four Big Ass Fans Essence model (12-foot diameter, up to 76 revolutions per minute, 4.3 amp); 58 Haiku Luxe model (5-foot diameter, up to 200 RPM, 1.2 amps) 
Worth noting: Big Ass has acknowledged that one of its components — PVC insulation around some of the wiiring — isn't Red List free, a requirement for Living Building projects. Exceptions for the Red List requirement allowed when there are no products on the market that are Red List free.
Certifications: Big Ass Solutions received the 2016 Energy Star Excellence Award for Product Design. Fourteen of the 41 residential-size fans currently rated by Energy Star as "most efficient" are Haiku models.
Corporate sustainability and responsibility: Big Ass bolstered its sustainable branding by building a LEED Gold research and development facility. The company repeatedly been named one of the "best places to work in Kentucky" and one of the best placed in the country for new college graduates.