I've been slipping away from my desk over the last few weeks to harvest blueberries.
The Georgia Organics office sits in the cradle between I-75 and I-85, the geographic heart of Atlanta, where breweries and repurposed business lofts co-exist with concrete plants and a MARTA train yard. When the area originally was developed, the planning must have gone something like this: Cut down all the trees, level the hills, pave the entire area and as fast as you can build one-story warehouses.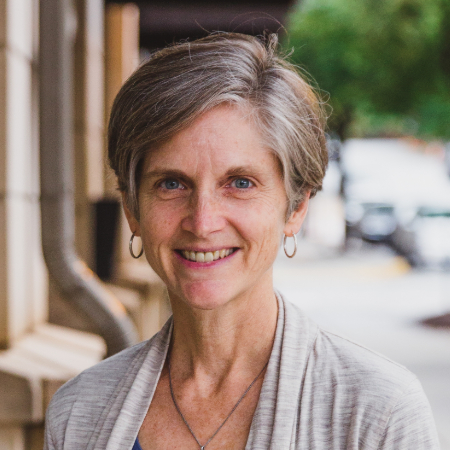 Now, this cradle district is undergoing a makeover, complete with resurrected rents. There have been attempts to improve walkability with hopeful bits of sidewalks, and to soften the landscape with trees and perennials. In one parking lot, a thoughtful designer built in small, curbed landscapes to add visual appeal.
It was here one day, while a colleague and I were on a post-lunch, walking meeting, where I spotted a blueberry bush, laden with ripe fruit.  How could this be? I looked around for the employees who should have been devouring these precious gems, or even for a mockingbird that might have cornered the market. Nothing.
So we gleefully shoved handfuls of the delectable fruit into our mouths. Dessert!  And, over the next few weeks, we diligently kept our eyes on the evolving harvest. I tagged the spot as my own free fruit stand.
Such al fresco, off-the-vine snack bars ought to be commonplace in modern-day commercial landscapes, which are more than ripe to evolve beyond aesthetics to include a new kind of purpose: Nourishment.
There's plenty of appetite for edible commercial landscapes. Eighty percent of Americans now live in cities.  And 90 percent of us fail to eat the daily requirements for fruits and vegetables. Why not allow the spaces that we walk through and occasionally linger become part of the solution? Why can't the blueberry plant take the place of yesteryear's water cooler?
While edible gardens and urban farms have become more prevalent over the past decade, commercial landscapes haven't grabbed the opportunity to align with the explosive public interest in local food. Turns out there are real barriers to progress.
In a new report released by Georgia Organics, Expanding Organic Edibles Across Atlanta, writer and researcher Lynne Davis dives into the commercial, affordable housing and green building sectors to better understand what may be preventing communities from snacking on-site. The report is the first in-depth analysis of barriers in urban environments to integrating edible landscape plants. And it suggests short and long-term strategies to build momentum.
Not surprisingly, money is a roadblock. But it need not be. Green-building incentives, the right training for maintenance workers and appropriate plant selection could support the inclusion of more edible plantings within municipal, institutional and commercial sites in the future. And while our report focuses on urban environments, rural landscapes — where there are even greater food access challenges — should also consider how their landscapes can provide nutrition for their own communities.
We already are beginning to see inspiring examples. Last year, Delta Air Lines hired Cory Mosser, a former organic farmer who runs an edible planning and planting consulting business, Natural Born Tillers.  Mosser installed raised beds and a new orchard with volunteers at Delta's corporate headquarters; employees there can now keep an eye out for their own stash of ripening blueberries, to be joined soon by figs, peaches and muscadines. In May, the City of Atlanta approved the establishment of a seven-acre "food forest" in the Lakewood area; residents and visitors will be able to walk trails lined with fruit producing trees, vines and shrubs. These innovative projects and others only hint at the massive potential beyond residential gardens and urban farms.
Should the idea become more popular, we'll have a new responsibility: To take advantage of our edible landscapes by eating the harvest. When it comes to blueberries, I'm ready to do my share.
Alice Rolls is President & CEO of Georgia Organics, a statewide nonprofit working to connect organic food from Georgia farms to Georgia families. The Expanding Organic Edibles Across Atlanta report was funded by the Kendeda Fund, which also publishes the Kendeda Living Building Chronicle. Photo of blueberry bush at top by Tony Glenn. Photo of Rolls by Georgia Organics.
---
---