Last month, the architecture profession entered a new chapter in addressing climate change.  By a 16-to-1 margin, the American Institute of Architects endorsed  a "Resolution for Urgent and Sustained Climate Action." It calls upon the AIA "to prioritize and support urgent climate action to exponentially accelerate the 'decarbonization' of buildings, the building sector, and the built environment."
The sense of urgency is reflected in the calendar. The year 2030 has emerged as a critical milepost for tackling building-related emissions. With goals that have ratcheted up since 2005, the Architecture 2030 Challenge provides a pathway for all new construction and major renovations to reach zero energy operationally by 2030. It so happens that the 2018 UN Intergovernmental Panel on Climate Change report gave us a dozen years to take steps to limit temperature rise to 1.5°C, beyond which even half a degree of increase will significantly increase the risks of extreme weather events.
So building designers have tremendous ground to cover in a very short time. At the same time, there are some very encouraging industry trends, particularly when it comes to creating buildings that operate at zero carbon. Let us review some of these bright spots:
Flattening of building energy use: Between 2005 and 2018, even though the U.S. continued to add 3 to 4 billion square feet per year to its building stock, the energy consumption from building operations has managed to stay relatively flat.  Credit goes to improvement in energy codes, technology and voluntary initiatives such as the Architecture 2030 Challenge, the AIA 2030 Commitment and LEED certification.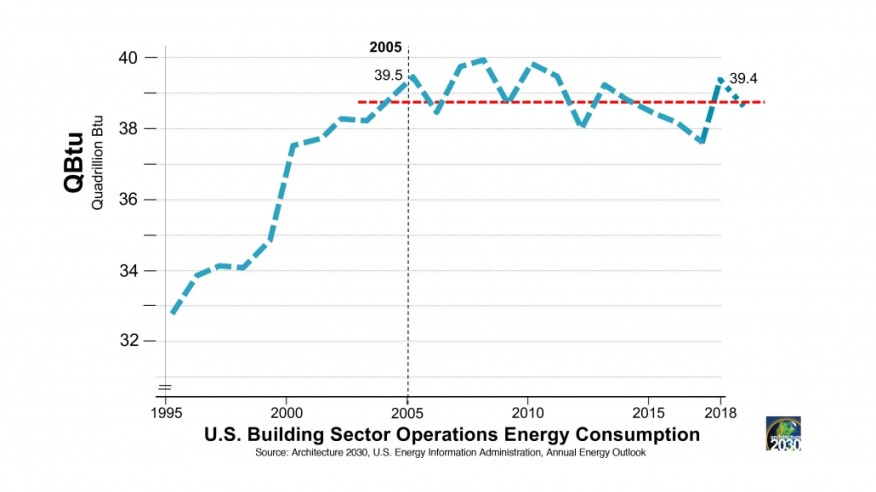 Zero energy buildings on the rise: The New Building Institute's 'Getting to Zero' database currently tracks more than 600 buildings that are either verified or on-track to operating at zero energy. This is a tenfold increase since NBI started documenting the trend in 2012. Education, office and multifamily building types are the leaders. This zero-energy trend is pervasive across different climate zones, buildings of different sizes, building types and development scales.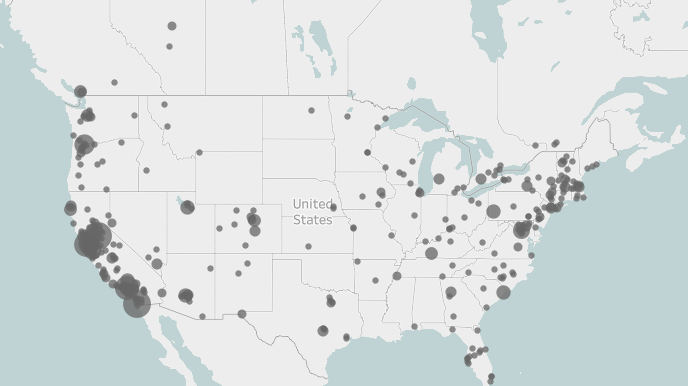 A push for electrification of buildings: To accelerate decarbonization, there is a strong case to be made for a shift from mixed fuel to all-electric buildings. Recent research from the Rocky Mountain Institute indicates that such a shift would reduce a homeowner's overall costs, while also readying buildings for a low-carbon grid. Research by E3, a California energy consulting firm, points to similar benefits and argues for incentivizing all-electric new construction including high-efficiency heat pump HVAC.
Grid interaction: As buildings become efficient and zero-energy ready, a key opportunity remains in the area of a two-way interaction between the electricity grid and the building occupants, through flexible technologies, analytics supported by sensors and modulation of energy use. Read the U.S. Department of Energy's overview and factsheet on Grid-Interactive Efficient Buildings from April 2019 here.
There is growing recognition that carbon released from building operations constitutes only one part of the carbon emissions tied to buildings. An assessment of the entire life cycle of a project would include emissions related to carbon embodied in building materials, as well as transportation, construction, end of life and all other stages
The embodied carbon problem is particularly large and only now getting the attention it deserves. At the same time, we have a long way to go to get operational carbon down to zero. There is hope, however, in the fact that we now know it can be done in a wide variety of buildings and at increasingly at a scale that can have an impact.
Ramana Koti, BEMP, LEED AP BD+C, is a building performance analyst at Lord Aeck Sargent in Atlanta and a member of the Kendeda Building for Innovative Sustainable Design design team.
IMAGE AT TOP: Completed last year, United Therapeutics' headquarters in Silver Spring, Md., is believed to be the largest net zero energy building in the United States. Courtesy: United Therapeutics.