Abe Kruger of SK Collaborative tells me the Kendeda Building for Innovative Sustainable Design is looking very good when it comes to air tightness.
His company performed a preliminary blower-door test on the 37,000 square feet of the building slated to become conditioned space. Although the leakage rate was more than double what will be required for the building to hit its energy efficiency goals, Kruger noted in an email that doors and some windows hadn't been installed yet. Therefore, they had to be temporarily sealed during the test. That would have affected the results because "the tape and plastic struggled to hold up to the amount of depressurization."
More detail from Kruger's email:
SK Collaborative performed a preliminary air infiltration test on the building's envelope to measure performing and identify areas for improvement. A total of 5 blower door fans were used to depressurize the building. The envelope leakage test result is 22,719 cfm [cubic feet per minute] at -75 pascals. The required construction specification is to not exceed 0.15 cfm per square foot of the building envelope at 75 pascals. The current envelope leakage rate is 0.34 cfm/ft2. For comparison purposes, the commonly accepted leakage rate for a good, new home is 0.35 cfm/ft2. Although the current leakage rate is double the target, it is quite impressive given the number of openings with temporary seals.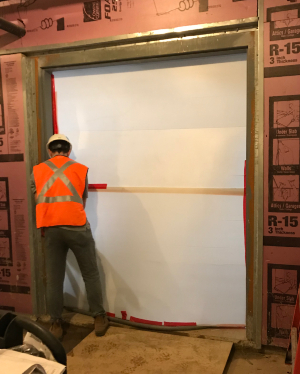 A tight envelope is a key tool in the Kendeda Building's goal to produce more clean energy than it actually uses — in part through extreme energy efficiency. Among its features: The exterior walls are wrapped in mineral wool, the curtain wall framing is among the industry's most thermally fortified, and the triple-paned windows are supplemented with argon gas. But it's the intricate task of sealing gaps between various materials that particular influences air infiltration.
A second test will be performed just before occupancy — expected to be around July 1. So what good is a blower door test at this stage?
For one thing, Kruger noted that SK Collaborative used a "theatrical fogger" to help isolate where any air was leaking out of the building.
"It helps us identify areas requiring additional air sealing," he wrote. "Many of these areas were obvious, but some were less so."
Skanska's Jimmy Mitchell answered that question with a few more details:
The value … has been to focus on the envelope's condition as we cover up the walls with brick, metal panel, or wood siding on the outside or insulation and drywall on the inside.  If there is a leak in these areas, then it will be much more cumbersome to repair at the end of the project.  Though we didn't have key skin items such as doors installed, we were able to pressurize the building and test the walls that were being covered up by brick and drywall. 
SK Collaborative is a consultancy led Kruger and longtime Atlanta green building guru Carl Seville. Skanska is the general contractor.