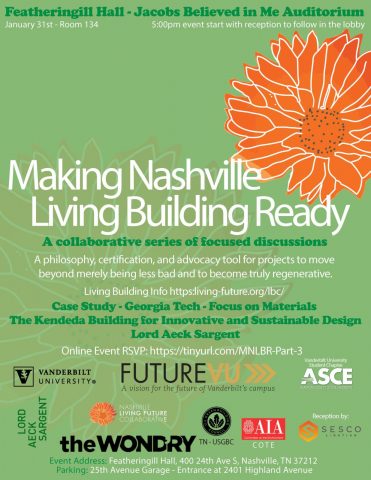 Living Building Challenge fever is sweeping across Nashville in general and Vanderbilt University in particular.
After two events last year introduced regenerative concepts to the Tennessee capital, the Nashville Living Future Collaborative will hold Part 3 of its "Making Nashville Living Building Ready" series Jan. 31 on the Vanderbilt campus.
The series so far has focused on the Kendeda Building for Innovative Sustainable Design at Georgia Tech — which is the focus of this blog and is the largest Living Building Challenge project undertaken so far in the Southeast. This month's event will use the Kendeda Building's approach to LBC's famously challenging Materials Petal as a case study.
It's being co-organized by the U.S. Green Building Council-Tennessee, the AIA Middle Tennessee Committee on the Environment, Lord Aeck Sargent (architects of record on the Kendeda Building, and three Vanderbilt organizations: FutureVU, the Wond'ry and the university chapter of the American Society of Civil Engineers.
To attend the free event at Vanderbilt's Featheringill Hall, register here.
PHOTO AT TOP: Downtown Nashville near sunset. Credit: Cropped from original image by Jason Mrachina.