Ryan Swenson didn't expect it to be so easy.
The project manager for Eckardt Electric in Atlanta had been tasked with overseeing the installation of electrical wiring and fixtures for the Kendeda Building for Innovative Sustainable Design. While two engineering firms — PAE Engineers in Portland, Ore., and Newcomb & Boyd in Atlanta — were responsible for the building's mechanical and electrical design, Swenson and his team were left with a separate and difficult task: The electrical subcontractor for any Living Building must ensure that none of the materials they use contain toxic chemicals from the Living Building Challenge's "Red List."
"Just think about it: What's in any product that's sitting on your desk right now?" says Swenson, who describes the painstaking process of getting manufacturers to share what materials were in their products, running questions by the architects and, when necessary, tracking down alternatives. "You really don't know what's in there, and sometimes the manufacturer doesn't have that information either. It's not as cut and dry and straightforward as it sounds."
The search for a Red List-free product that meets a project's specifications can play out like a game of whack-a-mole. One product might be free of one harmful chemical but contain another; and the next alternative might be free of that chemical but contain yet a third dangerous toxin. For reasons obscure  to everyone but the manufacturer, even environmentally friendly LED lights can contain lead, arsenic and other heavy metals.
For Eckardt, however, one decision on materials rose above others for its contrast between a very bad actor and a benign, nifty replacement. Polyvinyl chloride is among the most widely used harmful materials in the building industry. Primarily employed as sewer piping and wiring conduit, PVC is problematic along every stage of its lifecycle. Workers and nearby communities can be harmed during its manufacturing; building occupants can be harmed by its off-gassing; and, upon disposal, its disintegration can pollute the groundwater.
The health and environmental risks attributed to PVC read like rap sheet. Here's just a partial list from the International Living Future Institute:
PVC's vinyl chloride monomer building block is a known human carcinogen, according to the US Department of Health and Human Services. In addition, PVC is a Persistent Organic Pollutant Source Material. Due to its chlorine content, PVC often contains other Red List ingredients, such as cadmium, lead, and phthalates. The manufacture and disposal of PVC can result in the production of dioxins and disposal phases. Dioxins, specifically TCDD, accumulate in human and animal tissue and are associated with immune system impairment, damage to developing nervous systems, and damage to the endocrine and reproductive systems. TCDD is listed as a "known human carcinogen" by the International Agency for Research on Cancer.
Unsurprisingly, PVC may not be used in a Living Building Challenge project.
The good news, Swenson learned, is that there's an established alternative. High-density polyethylene, or HDPE, is a plastic based on an ethylene monomer, rather than chloride. It isn't a known carcinogen, is relatively stable in the environment, and can be safely recycled.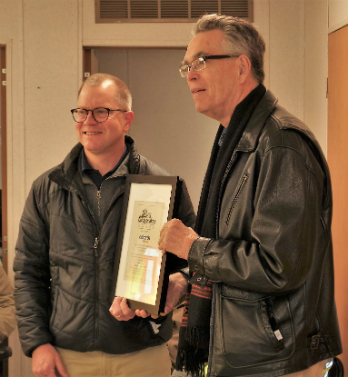 HDPE isn't exactly some obscure discovery. It's been used for decades in water pipes, beverage bottles, plastic lumber, folding chairs and dozens of other applications. And HDPE pipe is commonly used as electric-wire conduit on large outdoor projects, such as wind turbines, solar farms, and parking-lot and highway lighting.
But it's rarely employed as conduit inside buildings. Electrical contractors go with PVC because that's what they're familiar with — even though HDPE may be a better fit on many projects. And although production costs for the two materials aren't inherently different, the more mature for market for PVC conduit makes it easier to buy PVC in the small quantities that may be needed for buildings.
Each material has its advantages. HDPE conduit can coil and bend. That reduces the need for couplings, giving it an advantage on projects with long runs. But it's time-consuming to attach couplings to HDPE, so PVC can be less cumbersome to install when the electric plan are a lot of tight turns.
"I thought [HDPE installation] would take longer, just because [the crew] hadn't done it before," Swenson says. "If anything, it went just a hare faster. At worst, it was probably a wash."
For those reasons, Swenson expects to suggest HDPE again on project bids — regardless of the health and environmental advantages. Eckhardt's embrace and application of a product that's likely to make sense on other building project prompted a team associated with the Kendeda Building project last week to give the company its first "Changemaker Award" for sustainable innovation.
"This is an opportunity for market transformation, and that's one the things this building is trying to do — to transform that market," says the Kendeda Fund's Dennis Creech, who helped to select Eckardt for the award . "What was exciting to us was that they were excited — they're seeing that it's important for the environment, important for their industry, and important for their business. We want to recognize that our partners on this project are willing to really embrace the challenge part of the Living Building Challenge.
Swenson acknowledges that the "challenge part" has particularly come into play during the vetting process.
"To be honest with you, I don't know what these chemicals were, I just knew that they were on the list. We'd have to shoot it by the architects. And sometimes these companies don't want to disclose all the materials they use, so there was a lot of back and forth" he says. "But this was just the first job like this in the Southeast. In the future, it will easier because we'll have a better idea of where to look."
PHOTO AT TOP: Electricians lay out high-density polyethylene conduit before concrete is poured in the foundation of the Kendeda Building for Innovative Sustainable Design at Georgia Tech. Photo courtesy: Eckardt Electric.