Zero energy commercial buildings appear to be accelerating their steep ascent.
Sixty-seven of them have now been "verified" in the U.S. and Canada, according to a recent report from the New Buildings Institute. Another 415 are underway or are being evaluated for net-zero performance, according to the report, the 2018 Getting to Zero Status Update.
Fifteen months ago, NBI reported 53 buildings as verified, while 279 were "emerging." That works out to a 26 percent increase in verified buildings and a startling 49 percent hike in the emerging category in just over a year.
The numbers amount to a tiny fraction of the 6 million plus commercial buildings in the United States and Canada. But those in the trenches of the nascent movement to eliminate fossil-fuel use of buildings — which are among the world's largest sources of greenhouse gases — hope they're at the turn of a "hockey-stick-style transformation.
"It shows great, very quick progress over a short period of time," NBI CEO Ralph DiNola said last week. "Zero energy really is becoming the standard for the best-in-class high-performance buildings."
"Just based on industry chatter, it's sort of going off the charts right now, quite honestly" said Brad Liljequist, net zero energy director for the International Living Future Institute. "I've been working in net zero energy for a dozen years, and I've never seen the interest take off like this."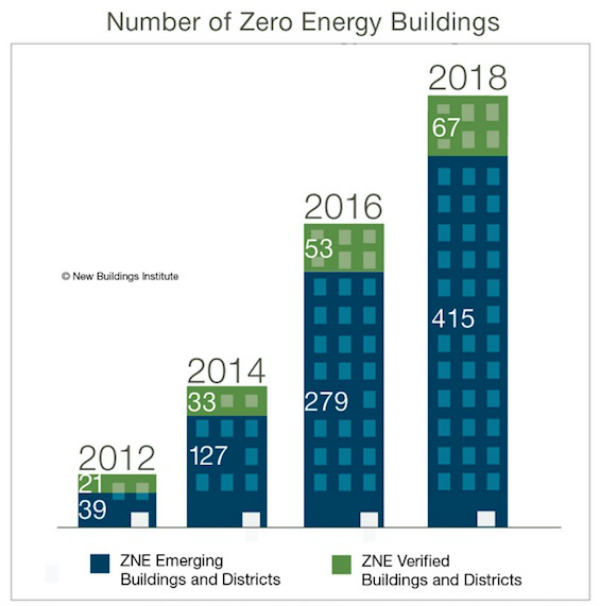 "Zero energy" refers to buildings that generate at least 100 percent of their own power from renewable sources that are either onsite or built specifically for the project.
A big driver for buildings that fit that definition has been technology — most obviously a steep drop in the cost of solar panels and a corresponding rise in their productivity. Liljequist also cites the development of highly efficient heat pumps, radiant cooling systems, and techniques that can improve building envelopes. Just as important: the expanding familiarity of architects, engineers and even investors with zero energy.
"There's been a ripening," Liljequist said. "People can deliver better and less expensive zero energy buildings than three years ago. Owners are hearing about it, and asking, 'Why can't I do this?' Design teams are feeling more confident. They're telling their clients, 'You know we could do something really special here, and in the long run it won't cost you more money.'"
That's precisely what happened five years ago in a conversation between architect Wyck Knox and Arlington (Va.) Public Schools.
"Net zero wasn't even part of the [district's] proposal," Knox, a principal at VMDO Architects in Charlottesville, Va., said before collecting an award last year for the school from U.S. Green Building Council. "We looked at it, and said, 'You know, we think that we can do this at net zero energy and still stay under-budget.'"
Arlington's 98,000-square-foot Discovery Elementary is now verified as a zero energy building. It also won Top 10 Award for environmental achievement last year from the American Institute for Architects.
DiNola points to the influence that codes and incentives can have on encouraging zero energy buildings. More than half the emerging buildings in the NBI inventory are in California. Not surprisingly, that state has the most favorable rating on NBI's "Zero Energy Performance Index Jurisdictional Scores." Among other goals, California is mandating that all new state buildings be designed for zero energy performance by 2020.
"The jurisdictions where this is really taking hold are setting goals and adopting policies that will drive it," the NBI CEO said. But he added that the private sector is now leveraging public sector progress to get into the game. "We're seeing developers and designers using this as a way to distinguish themselves."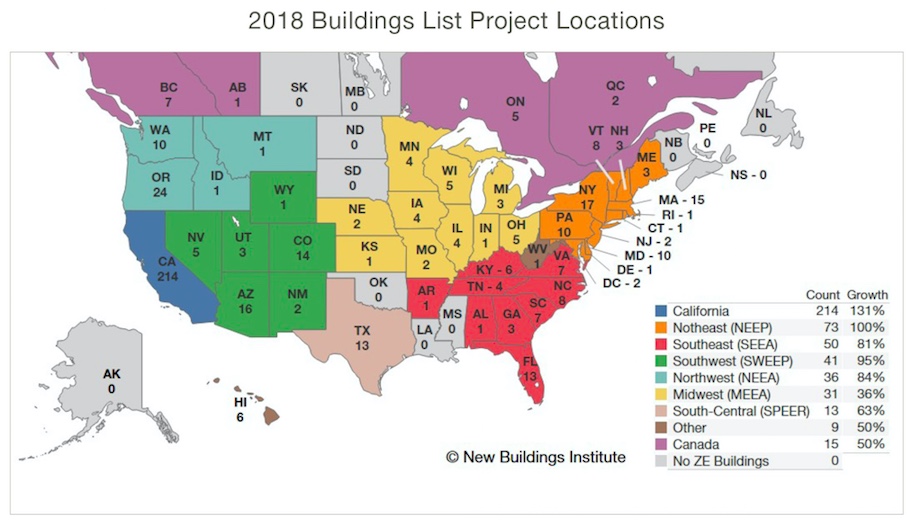 And champions are spreading the zero energy bug to unlikely parts of the country. Kentucky-based CMTA Engineers has made a name for itself by designing zero energy schools, offices, police stations and even a car dealership. Among the largest emerging buildings is the 260,000-square-foot Darla School of Business, completed last year at the University of South Carolina; it was designed by Rafael Vinoly Architects of New York City, with engineering by Stevens & Wilkinson of Atlanta.
Last year, the zero energy movement got an advocacy boost when NBI and ILFI agreed to align their respective programs in an effort to scale up adoption. In addition to cataloguing projects and providing training for building professionals, NBI now serves as auditing agent for ILFI's Zero Energy Certification program. At the same time, ILFI streamlined its Zero Energy Certification process, and has seen an upsurge in projects registering int that category.
Overall, ILFI already lists 66 buildings either as Zero Energy Certified, or as "positive energy" via full Living Building Challenge or LBC Energy Petal certification. The ILFI certifications comprise 32 of NBI's 66 verified buildings; they also include single-family homes and other small buildings that don't qualify for the NBI database. (Another organization, the Net Zero Coalition, tracks single-family homes; the Net Zero Coalition list overlaps with NBI list in tracking multifamily projects.)
Among other trends highlighted in the report:
Seventy-two percent of zero energy commercial buildings fall into one of three categories: education, offices and multifamily, in that order.
Broader factors, such as zero energy districts, energy storage and "grid harmonization" are playing a larger role in making zero energy buildings possible.
The size of zero energy buildings is increasing. Only 1 percent of verified buildings are larger than 100,000 square feet. But 18 percent of the emerging buildings are in that size category, and another 23 percent are between 50,000 and 100,000 square feet.
Warehouses, which require relatively little energy, comprise a very small fraction of zero energy buildings, making them a logical target for "accelerated adoption."
The trends identified by NBI's Getting to Zero are similar to those identified by an international report released last fall by a private research company. Grand View Research estimated that the global market size of equipment and services for zero energy buildings, which it refers to as "net-zero energy," was $8 billion in 2016. By 2025, Grand View predicted, that market will grow nearly 10-fold to $79 billion.
PHOTO AT TOP: Richardsville Elementary School in Bowling Green, Ky., became the nation's first zero energy school in 2010. It was designed by Sherman-Carter-Barnhart (architects) and CMTA (engineers). Photo courtesy CMTA/Sherman-Carter-Barnhart.
DISCLOSURE: The Living Building Chronicle is a project of The Kendeda Fund, which also has provided funding for the International Living Future Institute and the New Buildings Institute. The Chronicle is editorially independent of those organizations and separate from the grant-making process.