I often tell people Georgia Tech has been planning, designing and constructing a sustainable campus since its founding. Other institutions are traveling their own sustainability journeys.
The first buildings at Georgia Tech were built with red brick, manufactured locally out of Georgia's famous indigenous red clay. Our football field initially was a multipurpose space used for a variety of athletic activities. Sustainability is in our DNA.
Over the last couple of decades, the Institute has leveraged its academic strength in architecture, engineering, construction and technology to place a strong emphasis on high-performance, sustainable projects. Among the highlights is Clough Commons — a multifaceted campus hub that includes an 85-kilowatt solar array, a 1.4 million gallon underground cistern and an active green roof with beehives. At 230,000 square feet, it is one of the largest LEED Platinum buildings on a university campus.
Georgia Tech refers to itself as "creating the next." The Living Building Challenge has given us an opportunity to take the next step in our sustainability journey.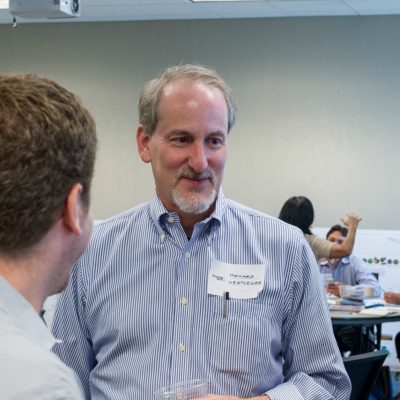 That step is about more than the building itself. It's about a process that already is injecting regenerative principles into campus planning and into our broader campus culture. Before we even begin to pull up the asphalt parking lot on the future site of our Living Building, the LBC process has forced us to ask fundamental questions about how we do things.
The first major example came two years ago, when we began to consider design teams for the project. We knew the selected team would need to work together to solve problems from the planning and design phases on through construction. A capacity for problem solving was more important than a stunning design proposal. We also had an initial problem to solve: Where on an eight-acre parcel of land should the Living Building be placed?
So rather than a design competition, Georgia Tech structured an ideas competition to select the integrated design team. That experience alone has bestowed lasting benefits on Georgia Tech. Armed with lessons we learned in the process of selecting the Lord Aeck Sargent/Miller Hull team for the Living Building, we're now conducting our second ideas competition — this one for the expansion and renovation of our Campus Center, which is not a Living Building project. And in the future, where appropriate, we anticipate more ideas competitions.
Benefits from the Living Building competition have rippled in other surprising directions. By pulling in highly qualified integrated teams and compensating the finalists with a stipend to seriously investigate the project, we began, in effect, an ongoing conversation with each of the firms about the broad principles, or "Petals," of the LBC. A few months later, when we requested proposals for our new campus safety facility, a firm that attended a public presentation about our Living Building project suggested ways for us to meet regenerative requirements in the new project. And here's the kicker: We weren't even seeking those ideas for the campus safety facility.
That was an ah-ha moment. We're now asking ourselves countless basic questions about how to improve our buildings, and about the planning and design process. The architects, engineers and other professionals whom we've engaged in this conversation are asking similar questions: Can we include lower energy use intensity and occupant behavior in the thermal comfort strategy for new buildings and renovations? What's the most efficient way to vet materials for performance, human health and lifecycle sustainability? Can our district systems be managed more efficiently so that the campus takes on more characteristics of a holistically and integrated sustainable community? Can we benefit both Georgia Tech and the surrounding neighborhoods by building a more active and equitable relationship with the community? 
To a greater extent than ever before, we're welcoming input from a wide range of stakeholders — from students to under-represented groups on campus to the larger community — in how the Living Building could serve its future occupants and our community. This has opened up an entirely new challenge for design professionals: How can we incorporate such input mechanisms to help buildings better serve their ultimate users?
We can't unlearn what we're learning through the Living Building process. Neither can the design and construction professionals who've engaged with us. Our new Dalney Street office building and parking deck will be designed by the team of Collins Cooper Carusi and Eskew Dumez Ripple. As finalists a year earlier in the Living Building competition, they understood sustainability and the tenets of the LBC — all principles that are important to us.
We're benefiting from their collective knowledge. We expect the Dalney Building to end up using one-third the energy of a typical building of its type in the Southeast. In addition, as best they can within the project's budget, the design team will specify "red list" free material.
No doubt, Georgia Tech is very fortunate. We're a large institution with a global reputation in relevant fields — from engineering, architecture, construction science and technology to materials research, energy engineering and sustainable business practices. And of course we're the beneficiaries of a $30 million Kendeda Fund grant to design, build and operate the Living Building.
But this big step on our sustainability journey is not so different from those that other campuses may take. It should be noted that cost premium of a Living Building isn't so high as to make it insurmountable. And the benefits, as I've argued above, are profound and widespread.
More importantly, the Living Building Challenge is part of an even broader transition in aspirations for the sustainable built environment. We are moving, as LBC founder Jason McLennan has said, from creating buildings that do less harm toward buildings that actually restore natural systems.
There's another potential benefit at any campus. We all know that learning doesn't stop in the classroom. It is our students who will live in and help to create the environment of the future. What better way to prepare them for that future than by modeling for them what's next in design and construction?
Howard S. Wertheimer (FAIA, LEED-AP) is assistant vice president for capital planning and space management at Georgia Tech. His column is part of our Building Thought Leaders series.  If you'd like to republish or distribute this Building Thought Leaders column, please review these guidelines.