The Living Future 2017 unConference brought more than 1,000 owners, funders, architects, engineers and builders ast week to Seattle. Among them were around a dozen people involved in the Living Building at Georgia Tech.
After the conference, I asked some of the Georgia Tech team members to offer up their top three takeaways from the conference. Here's what I got.
Todd Mowinski
Partner & Mechanical Engineer, Newcomb & Boyd, Atlanta
We've made good progress on our journey, but we still have a long way to go. After talking with the Brock [Environmental Center] team and attending various sessions, it's humbling to think about the work ahead towards certification.

Georgia Tech's commitment to include diverse group of stakeholders from the Institute is spot on with the message of the diversity and equity imperatives of the conference.

[Keynote speaker] Van Jones' message to make sure we don't draw our circles to small resounded with me. Understanding that all sides may put their values ahead of their own self-interest was an intriguing thought.
 Erin English
Senior Engineer, Biohabitats Inc., Santa Fe, N.M.
The conference felt as if the field is maturing somewhat. Even though the Living Building Challenge is likely still new to many on the outside, among those creating projects of this caliber, there is now deeper information, meaningful lessons learned, and a finer grain of understanding about the details (and challenges) of creating buildings that are reaching toward "living" status.

There is a healthy stable of newly certified and registered projects, with impressive growth curves. Though this is still just a drop in the overall bucket of the work that remains to move toward a regenerative future.

The conference is as much about cultivating the human spirit and inspiring personal change to do good things in the world as it is the technical and networking opportunities to learn and connect.
Marc Brune
Associate Principal and Mechanical Engineer, PAE Engineers, Portland, Oregon
We need to act now to put the climate crisis on the right course and buildings are a big part of it.

Local initiatives have a big impact.

Need to view sustainability in a broad lens: energy, water, equity, health all are equally important.
Fund Advisor for Sustainability, Kendeda Fund, Atlanta
Dennis Creech. Photo by Eric Cash

Taking regenerative building to scale does not have to mean a single, large endeavor. It can be lots of small and medium-size actions. Since we need climate action ASAP, the later strategy may be more effective.

How do we move from an extraction economy to a regenerative economy? We need to do better at defining our vision versus just being the resistance. Our vision needs to be bold. It will be toned down though the inevitable compromise necessary to shape policy, but start with inspiring.

Finding the balance between regenerative design being a social movement as well as a force to change a large, entrenched industry is a challenge. I'm OK with ILFI tipping slightly to the movement side of the equation, especially in the formative years, but I think there needs to be a strategy to enlarge the audience. That said, I think ILFI will be most effective by being the tip of Ray Anderson's spear and not trying to gain a large percentage of the market.
Alissa Kinglsey
Architect, Lord Aeck Sargent, Atlanta
Change the Conversation: There is a large population of people who are skeptical or unaware of sustainable design practices. We need to listen and understand where others are coming from, and learn how to have a more productive dialogue.

The impact of biophilic design can be researched, measured, and analyzed. As more of this research is published, it will be fascinating to see how it impacts the design community.

Resources abound! There was a great sense of community among all the participants; everyone seemed open and willing to share their experiences, offer support and ask for advice.  Everyone was there with the same goal to create better buildings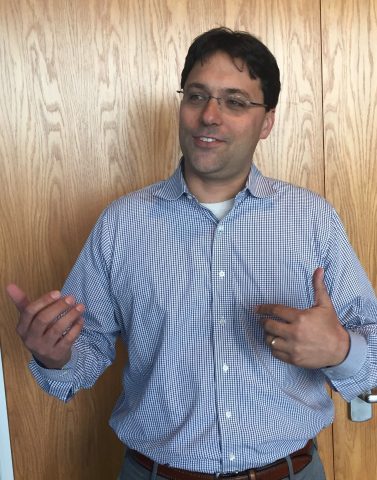 Director of Project Solutions, Skanska USA, Atlanta
The Living Building Challenge's commitment to transparency has cultivated working relationships between a larger group of manufacturers.

The program is in a growth phase with a healthy list of dozens of projects in the design phase. 

This Challenge is a great place to find and grow market share through innovation in the built environment. 
Jim Nicolow
Director of Sustainability, Lord Aeck Sargent, Atlanta
Time. [New Zealand indigenous leader] Kirsti Luke's keynote really had me thinking about time and how short term our day to day decision and considerations are.She said something along the lines of, "Recent times have been pretty tough for the Tuhoe people." And by "recent," she meant the past few hundred years. She envisioned a future where their new building and the programs it provides will no longer be required. That future was in "a generation or two."  We're often focused on the next quarter or the next project deliverable. When we're thinking "long term" that may be the end of the project, or a strategic planning effort that is at most a few years out. Thinking in terms of multiple generations was really striking.

Love. Why do we do what we do? How do you make meaningful change?  Humans are social animals, and several discussions focused on the underlying deeper meaning/purpose. Deep stuff.

Representation. Several sessions had me thinking about who is at the table. Favianna Rodriguez's call to involve artists for their ability to tell a story and paint a picture of an inspiring better future; a Biophilia workshop with a biologist; a session on an LBC school where the school age invited guests asked, "Did you talk to any actual kids during the design process?" It turns out one of the main concerns of the kids at the school was the critters that lived in the existing school, what will happen to them?
Fund Advisor for People Places and Planet, Kendeda Fund, Washington, DC
Kirsti Luke's presentation on the Tūhoe Te Uru Taumatua, Ngāi Tūhoe's Tribal Authority community center, was fascinating – I appreciated how the tribe leveraged the LBC as a way to heal historic inequities, and to introduce a new kind of land stewardship without ownership.
I was impressed with all the new partnerships that ILFI announced: the shared certification process with New Buildings Institute, and the Crosswalking with USGBC's LEED Platinum and WELL certification programs. I think these partnerships are indicative of ILFI wanting to reach beyond the choir and connect with a broader audience.

The affordable housing cohort is taking on the LBC with serious determination and commitment. While LBC doesn't always sync with the requirements and time frames for building affordable housing, the developers in the cohort are exploring every way that the work can align, and that petal certification can be earned!
Ken Edelstein (Me!)
Editor, Kendeda Fund (Living Building Chronicle), Atlanta
The Zero Energy reboot and ILFI's collaboration with New Buildings Institute are signs that the net zero energy movement is maturing. It's exciting to see ILFI and NBI position themselves at the center of net zero.

Even though there's a lot more chemical data available on products and materials, healthy product declarations remain a chaotic, uncoordinated area, which is one reason the Materials Petal of LBC is so difficult. The database of databases called Portico (a collaboration between Google and the Healthy Building Network) seems the most hopeful solution (particularly for big firms that have to vet loads of materials for multiple projects), but it's not there yet.

The increasing scale of Living Buildings is a big step for ILFI. Over the past two month, two high-tech companies — Etsy and Google — received Petal certifications for big office retrofits, each of them around 200,000 square feet. And now Microsoft has registered its 640,000 Silicon Valley campus for petal certification.

(I get a bonus takeaway because I wrote the article.) I was delighted by the amount of interest shown in the Living Building at Georgia Tech. All these Northwesterners seem genuinely curious about the complexity of the building and the fact that it's in a hot-humid climate. I couldn't help but have a little pride in the excellent reception people gave a panel from Georgia Tech that focused on some real-life project "decision points."
Featured photo (above): At the Living Future 2017, Georgia Tech's Howard Wertheimer (right) makes a point while Lord Aeck Sargent's Joshua Gassman looks on, during their "Decision Points" workshop on the Living Building at Georgia Tech. Photo by Ken Edelstein.