The International Living Future Institute has named Seattle leadership consultant K.C. Gauldine as its interim CEO while the nonprofit's board continues to search for a permanent leader.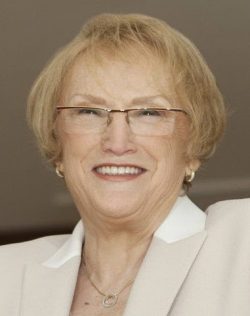 Gualdine has "more than 30 years of experience leading nonprofits through executive transitions," ILFI Chair Anthony Guerroro noted Wednesday in an email announcement.
According to her company's website, Gauldine specializes in serving as an interim CEO, succession planning and "organizational assessment." Her previous clients include the Nature Conservancy, Big Brothers/Big Sisters, Goodwill Industries and the Seattle Children's Museum.
The ILFI staff has been without a permanent CEO since Amanda Sturgeon left the organization early in the year. Around the same time, Guerrero succeeded ILFI founder and former CEO Jason F. McClennan as board chair.
In her temporary role, Gualdine will  to help "identify the qualities we need in the person, solicit applications, and [to] be involved in interview process," ILFI Communications Director Nicole Van Batenburg wrote to me in an email. "Target date for when that person might come on board is really dependent on so many factors we ultimately can't control, like how long it takes us to find the right person, or when they might be available if they're with another [organization] and need to give sufficient notice. We are prioritizing the right person over expediency, which we're able to do in part because we're so fortunate to have found K C as a professional interim to guide the ship meanwhile."
Here's Guerrero's letter:
I am pleased to announce that the International Living Future Institute board of directors has selected K C Gauldine to serve as interim CEO, as we proceed in our search for a new permanent leader for the role. 
K C is a seasoned veteran, with more than 30 years of experience leading nonprofits through executive transitions. As the board reviewed candidates for the interim role, K C stood out front because of her strong blend of management skills and expertise for innovation, translating business objectives into sound operating results and building valuable relationships. Her depth of experience is especially critical during the challenging times we are all living through. In addition to leading the organization day-to-day through this transition, K C will also support the executive search process, conduct an organizational assessment, and lead business planning as the Institute increases its reach and impact. 
Raised in a rural setting, K C's father cultivated her love and respect for nature from an early age. Her childhood led to an understanding of the importance of experiential learning, manifesting in a life-long commitment to the Reggio Amelia philosophy of early childhood education. Serendipitously, this approach is practiced by the Bertschi School, the world's first certified Living Building.  
K C recently noted to me that, "when I first learned about the International Living Future Institute, I felt a genuine connection and fell in love with the organization immediately. Reading through the website and strategy was like walking through my own mind."  
Marja Williams, vice president of programs, recently mentioned to me how comforting it is to have someone of K C's caliber leading the Institute's talented team. "These are tricky times so this decision by the board puts wind in our team's sails," she noted. 
I completely agree. On behalf of the whole organization, we are thrilled to have K C leading the team through the transition period. You can read more about her here.
PHOTO ABOVE: ILFI offices are in the Bullitt Center, a landmark Living Building in Seattle. Courtesy Bullitt Foundation.